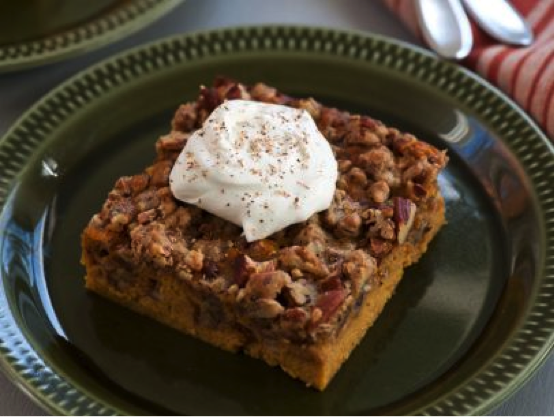 On this final Friday before Thanksgiving, I'm wrapping up my series on Thanksgiving sides with this dessert idea. By all means, make the traditional pumpkin, apple, and pecan pie, but you may want to add these little bites as well.
When I make desserts like this, I like to cut them into small squares to make them more of a nibble than a full blown dessert. I'm more of a dessert nibbler at this point, so several small bites of different delicious options suits me just fine. The photo I have here is bigger than I'd cut these, but you certainly could serve it as a full sized dessert if you'd prefer.
Pumpkin Pecan Crunch Squares
Ingredients
15 oz. can of pumpkin puree
1 cup heavy cream
4 eggs
½ cup granulated sugar
½ cup brown sugar (divided)
½ tsp. ground nutmeg
½ tsp. ground cinnamon (divided)
¼ tsp. salt (Divided)
4 Tbs. unsalted butter, diced
1 ½ cup roughly chopped pecans
¼ cup all-purpose flour
Whipped cream for garnish
Directions:
1. Preheat oven to 350 degrees F.
2. Combine pumpkin, beaten eggs, granulated sugar, ¼ cup brown sugar, nutmeg, ¼ tsp. cinnamon, 1/8 tsp. salt in a bowl until well blended.  Pour into a greased 8×8 inch baking pan.
3. In a bowl combine butter, pecans, flour, and remaining brown sugar, cinnamon, and salt. Scatter the pecan mixture on top of pumpkin mixture.
4. Bake for 45 minutes to an hour, or until the edges are puffed and the filling is set in the center. When you insert a knife, it should come out clean. Cool until room temperature.
5. Serve with a dollop of whipped cream.