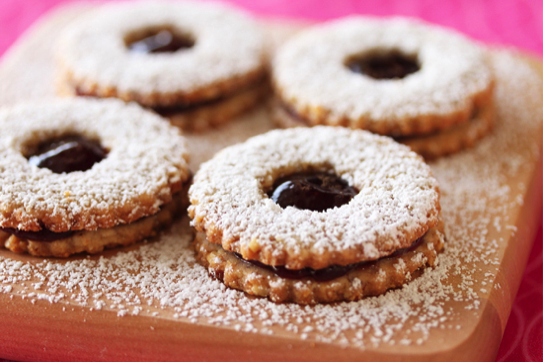 Back when I was an undergrad at Cornell, I was positively delighted to land a job working in the on-campus bakery. At Straight from the Oven, we did serious baking, as in time-to-make-the-doughnuts 4:30AM alarm clocks going off in my dorm room, and chef's whites, and flour covered aprons, and a row of mixers so big I could have climbed into one if I'd been so inclined. (I didn't, but still.) I was in heaven. I learned so many things there about baking from people who'd been doing it longer than I'd been alive, and I had my first exposure to Linzer cookies.
For the uninitiated, a Linzer cookie is a two layer cookie with jam in between the layers. The top cookie has a cutout so the jam peeks through. They are gorgeous. And wildly popular among college students buried in books for the afternoon.
I think they're particularly festive at Christmas when the red jam looks brilliant on a tray of treats. Enjoy!
Raspberry Linzer Cookies
Ingredients:
1 ½ cups all-purpose flour
1 cup whole almonds
½ tsp. baking powder
½ tsp. ground cinnamon
¼ tsp. salt
2/3 cup granulated sugar
½ cup unsalted butter
4 large egg yolks
6-10 Tbs. raspberry preserves (the best quality you can find!)
2 tsp. powdered sugar
Directions:
1. Combine ½ cup of all-purpose flour and almonds in a food processor; process until finely ground. Combine almond mixture, remaining 1 cup of all-purpose flour, baking powder, cinnamon, and salt.
2. Place granulated sugar and butter in a large mixing bowl and beat with a mixer at medium speed until light and fluffy. Add egg yolks; beat until well blended. Beating at low speed, gradually add flour mixture until all ingredients are combined.
3. Turn dough out onto a sheet of plastic wrap; knead lightly 3 times or until smooth. Divide dough into 2 equal portions; wrap each portion in plastic wrap and chill for 1 hour.
4. Preheat oven to 350°.
5. Roll each dough portion into a 1/8-inch thickness on a floured surface; cut with a 2-inch circle cookie cutter with fluted edges to form 36 cookies. Repeat procedure with remaining dough portion; use a 1-inch circle fluted cutter to remove centers of 36 cookie toppers.
6. Arrange 1 inch apart on baking sheets lined with parchment paper. Bake, 1 batch at a time, at 350° for 10 minutes or until edges are lightly browned. Cool on pans 5 minutes. Remove from pans; cool on wire racks.
7. Spread center of each whole cookie with about 1/2 teaspoon preserves (you may need a little more). Sprinkle cutout cookies with powdered sugar and place on top of each whole cookie.