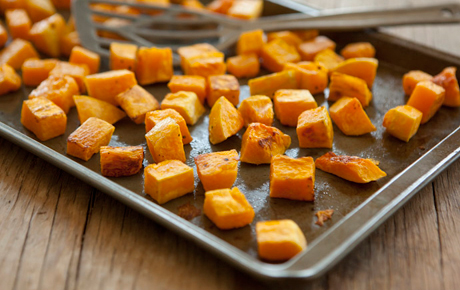 I think we're all entering Thanksgiving planning mode…and if you're like me you'll want to test out a few ideas before the big day! This one is a contender…especially if you'll have some vegetarians around your table who are looking for a heartier dish or two. You could easily substitute sweet potatoes for the squash (or quinoa for the cous cous if you want to make it gluten free). And even if it doesn't make it to your Thanksgiving table, I can assure you this is a keeper for a special fall side dish or vegetarian meal! Enjoy.
Roasted Butternut Squash with Whole Wheat Couscous
serves 6-8
Ingredients:
1 medium butternut squash
1 tablespoon olive oil
1 cup whole wheat couscous
1 teaspoon cinnamon
1 cup dried cranberries
1/2 cup toasted walnut pieces
kosher salt and freshly ground pepper
Directions:
1. Preheat oven to 375 degrees. Peel squash, cut in half, and remove seeds. Dice into 1/2-inch cubes and place on a large rimmed baking sheet. Drizzle with 1 tablespoon olive oil and salt and pepper to taste. Stir to coat the squash. Bake for 30 minutes or until soft.
2. While the squash is roasting, prepare the couscous according to the package directions.
3. Combine roasted squash, cinnamon, dried cranberries, walnuts, and couscous. Toss well to combine and serve warm.