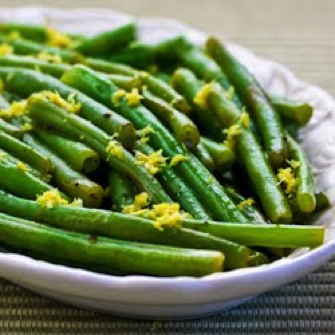 Next up in our Thanksgiving Side Dish Series….an incredible twist on green beans. I personally love to see something green on a Thanksgiving table, and this dish would be amazing. The addition of rosemary, lemon and orange makes it extra special – just perfect for a holiday meal.
That said, if you have picky eaters at the table, you can certainly remove some of the green beans before you add all the good stuff – I've noted that in the directions for you.
Rosemary Citrus Green Beans
Ingredients

4 Tbs. unsalted butter
2 1⁄2 lb. snap green beans
1 garlic clove, minced
3⁄4 cup low sodium chicken broth
3⁄4 tsp. chopped rosemary
1 tsp. lemon zest
1 Tbs. fresh lemon juice
1 tsp. orange zest
2 Tbs. fresh orange juice
salt & pepper
Directions
1. In a large skillet, melt the butter over moderately high heat, about 1 minute. Add the green beans, toss to coat and cook for 2 minutes . Add the garlic and stir until fragrant, about 20 seconds.
2. Add the chicken broth, cover and bring to a boil. Cook until the beans are crisp-
tender, about 2-3 minutes. Remove the lid and cook, tossing occasionally, until the broth is nearly evaporated.
3. If you have picky eaters: At this point, transfer half of the beans to a bowl and season simply with salt and pepper.
4. For everyone else: Add the rosemary lemon zest, and orange zest to the beans in the skillet. Stir in the orange and lemon juices, season with salt and pepper, and serve immediately.