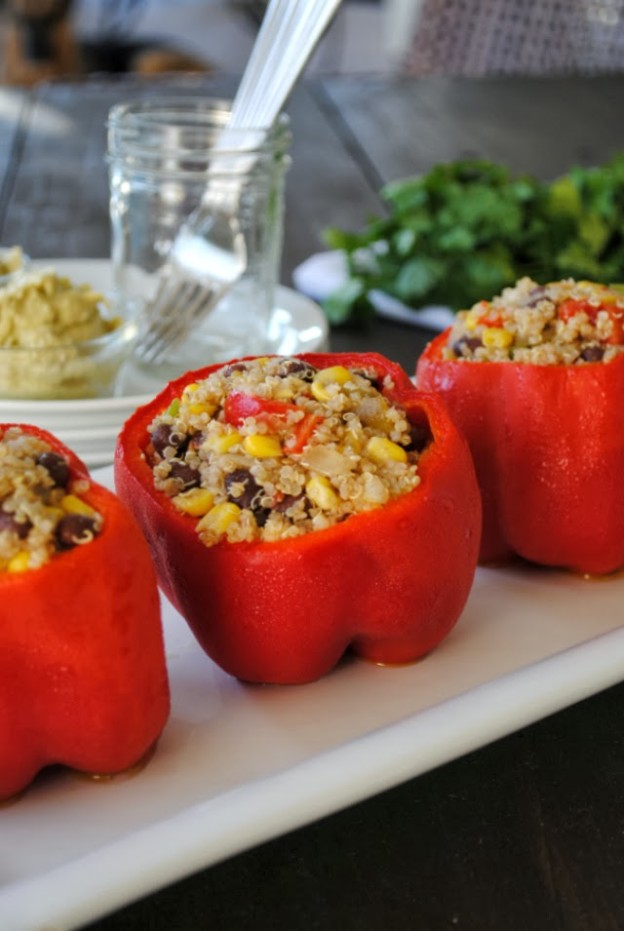 Who says meatless cooking can't be satisfying, flavorful, practically addictive? Certainly not me! And these stuffed peppers are all three. If you don't ANNOUNCE that these are meatless when you serve them,  your family (or guests) won't even question you. The quinoa and beans and combination of rich spices will have them hooked at the first bite.
Building more meatless (aka plant based) meals into your diet is one of the best things you can do for your health (call me a broken record if you must). But you don't need to sacrifice taste or heartiness to do so.
And, by the way, these little bundles of yumminess are even VEGAN*!  (Shhhh. I won't tell if you don't.)
Sante Fe Quinoa & Black Bean Stuffed Peppers
serves 4-6
Ingredients:
cooking spray
1 tablespoon extra-virgin olive oil
1 small onion, small dice
2 medium carrots, small dice
2 cloves garlic, minced
3/4 cup uncooked quinoa
1 1/2 cups vegetable broth
1/2 teaspoon kosher salt
3 large bell peppers (any color), cut in half lengthwise, stems, seeds, and membranes removed
1 – 15 oz. can black beans, drained and rinsed
1 – 8 oz. can low-sodium tomato sauce
1 teaspoon chili powder
3/4 teaspoon ground cumin
1/2 teaspoon paprika
1/2 teaspoon dried oregano
Directions:
1. Preheat oven to 375. Line a rimmed baking sheet with foil and spray lightly with cooking spray.
2. Heat olive oil over medium heat in a medium-sized skillet with a lid. Add the onion and carrot and saute about 8 minutes, or until the vegetables are softened. Add the garlic and saute an additional 2 minutes, stirring often. Add the quinoa, vegetable broth, and salt. Bring to a boil and then reduce heat to low. Cover and simmer for 20-25 minutes, or until the liquid is absorbed.
3. While the quinoa is cooking arrange the peppers, cut side up and spray liberally with cooking spray. Bake for 15 minutes and remove from the oven.
4. When the quinoa is cooked, add the black beans, tomato sauce, and spices. Combine well. Divide the mixture evenly between the six peppers. Pat the quinoa down to fill the peppers.
5. Return the peppers to the oven and bake for 25 minutes.
 * Vegan – containing no animal products, including red meat, poultry, fish, dairy, eggs, or honey