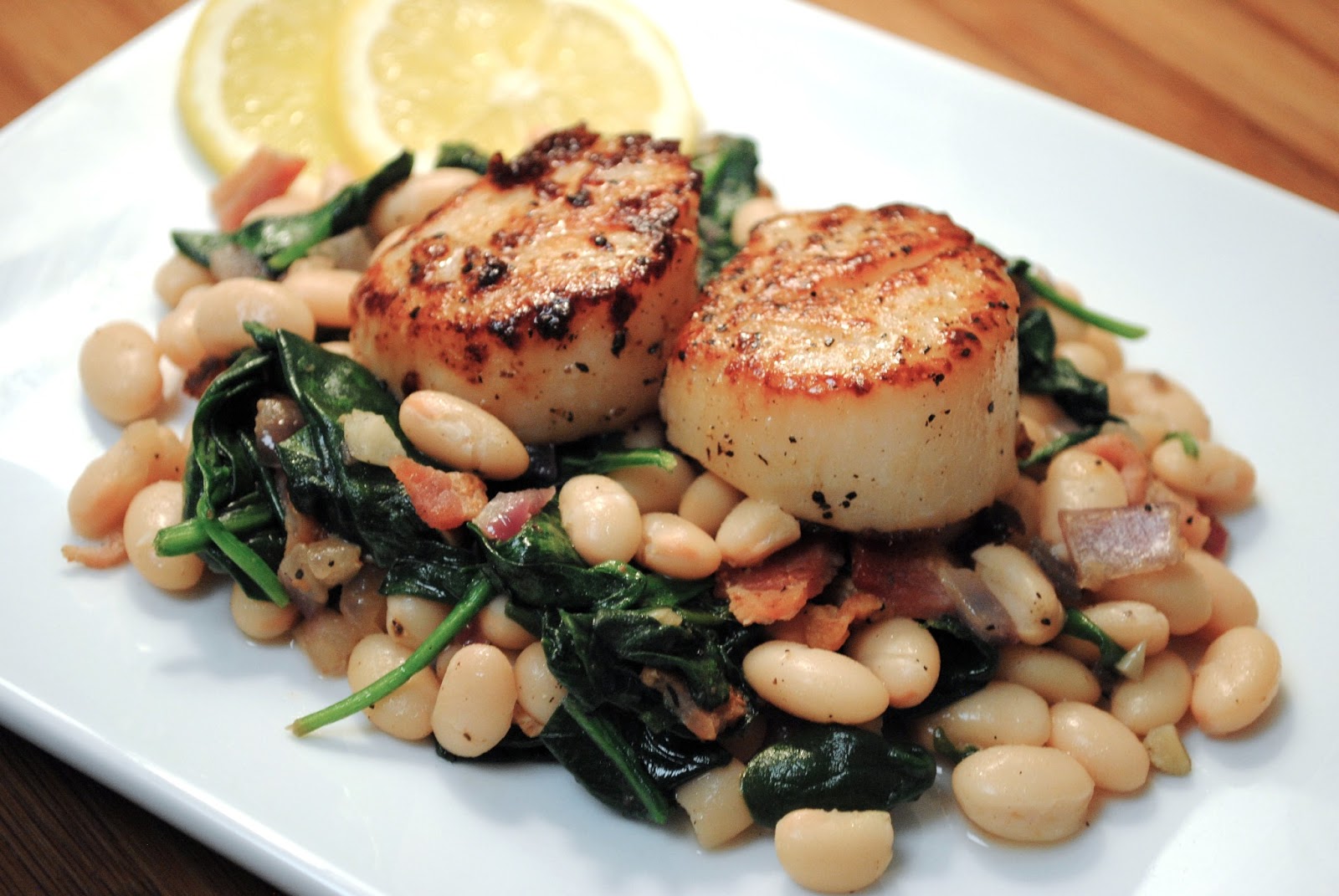 As you learned in my last post, we've been singing the Little Mermaid soundtrack around here for weeks now, so maybe that's why I have seafood on the brain. Four hundred renditions of "Les Poissions" and "Under the Sea" will do that to a girl. But you just might thank me, because these Seared Scallops are to-die-for.
You'll cook this dish in two steps – first the white beans and spinach and then the scallops which go on top. The end result is warm and rich with flavor (thanks, bacon!) and yet takes less than 10 minutes to prepare. Top that!
Seared Scallops with White Beans and Spinach

Serves: 4

Ingredients:
2 strips lean bacon, chopped into small pieces
1/2 red onion, minced
1 clove garlic, minced
1 1/2 cans white beans (14 oz each) rinsed and drained
4 cups baby spinach
1 lb large sea scallops
Salt and black pepper to taste
1 Tablespoon butter
Juice of 1 lemon
Directions
1.  Heat a medium saucepan over low heat.  Cook the bacon until it has begun to crisp.  Add the onion and garlic; saute until the onion is soft and translucent, 2 to 3 minutes.  Add the white beans and spinach and simmer until the beans are hot and the spinach is wilted.  Keep warm.
2.  Heat a large cast-iron skillet or saute pan over medium-high heat.  Blot the scallops dry with a paper towel and season with salt and pepper on both sides.  Add the butter and the scallops to the pan and sear the scallops for 2 or 3 minutes per side, until deeply caramelized.
3.  Before serving, add the lemon juice to the beans.  Season with salt and pepper.  Divide the beans among 4 warm bowls or plates and top with scallops.