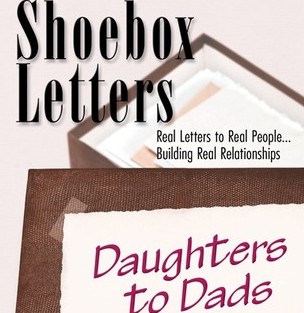 When's the last time you wrote a letter? Not an email or a text, but an honest to goodness old fashioned letter?
My friend, Clay Brizendine, recently compiled a collection of letters from daughters to their dads for publication. He asked me to be a contributor and I happily obliged.
In a moment of perfect synchronicity, his request came just before my dad's 70th birthday. I accepted the nudge to thank my dad for the role he's played in my life so far. Here's how my letter began:
Dear Dad,
Your 70th birthday has given me a good reason to reflect on our relationship at this stage of my life, and on what your role as my dad means to me.
I've thought back over your unfailing presence in my life – the days and weeks and years through which you've fathered like a steady heartbeat – dependable, rhythmic, never missing a beat. I've recounted the million hours of playtime, the thousands of tuck-ins and kisses goodnight, the countless chauffeured car trips. I've remembered the mended broken things and books read aloud and the meals shared. I've relived the moments for which you were there – no matter the sacrifice of work, leisure, or sleep. I've thought about the emails sent from your office and the phone calls made from the car, the advice dispensed in person. I've recalled the hours of grandparenting and home improvements and family dinners that have filled our recent years…
Writing was easy for me because I have a great dad and a lifetime of happy memories on which to reflect.
Not so for all of Clay's contributors to Shoebox Letters – Daughters to Dads. Unlike mine, some of the letters unmask deep hurts and brokenness. Not all father-daughter relationships are alike but in the end each one reflected some aspect of deep and abiding love from child to parent, daughter to dad. In fact, Clay learned so much about the textured relationship between dads and daughters (he has two of his own!) that he was able to extract some key themes around which to organize the book.
I think even more importantly than what he learned about dads and daughters, Clay confirmed his hunch that there is magic in the written word – magic we're losing in the technological shorthand of today that can be reclaimed by putting pen to paper and sealing an envelope.
At the end of the book, Clay encourages everyone to write a letter of their own – I'd urge you to do the same.
Whose day could you make by writing to them from your heart? Dig out that stationery and let the magic unfurl.