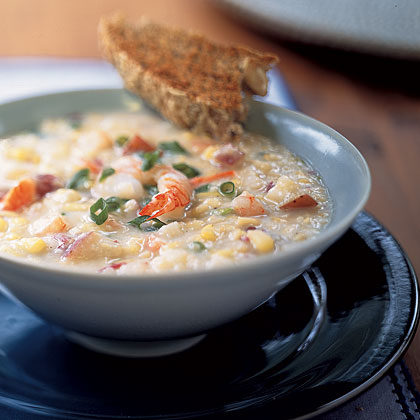 I have tested FOUR soups this week and my family is still speaking to me! In fact, they're loving these new soups and are already asking when we can have them again. I love it when that happens. Cooking is much more fun when the people you're cooking for are delighted with the end result!
This chowder is a great weeknight choice because it is takes so little time to make. Plus,  the ingredients are easy to find even in the dead of winter. My kids adore shrimp, but if you'd rather use chicken in this, you could easily substitute chicken that you'd pre-cooked and diced. If you go that route, add the chicken at the same time as you'd add the shrimp and just heat it through.
Shrimp & Corn Chowder

Serves: 4

Ingredients:
1 bunch green onions
3 cups diced red potatoes
3 cups fat free, less sodium chicken broth/stock ( I like the Pacific Foods brand)
1 (16 ounce) package frozen white corn, thawed
3/4 pound shrimp, peeled, deveined, and cut into 1/2 inch pieces
1/4 cup heavy cream
1 Tablespoon fresh lemon juice
Freshly ground black pepper (optional)
Directions
1.  Remove green tops from onions. In one pile, chop white and light green portions and set aside. In another pile, chop dark green parts of onions. (You'll use both.)
2.  Combine diced potatoes and chicken broth in a medium saucepan; bring mixture to a boil.  Cook for 5 minutes, add corn and sliced onion.  Reduce heat and simmer for 8 minutes.
3. Place 2 cups potato mixture in a blender (or bowl of immersion blender), and process until smooth.  Return to pan, and stir in shrimp.  Cook for 3 minutes or until shrimp are done.  Just before serving, stir in dark green onion tops, cream, and lemon juice.  Garnish with freshly ground black pepper.