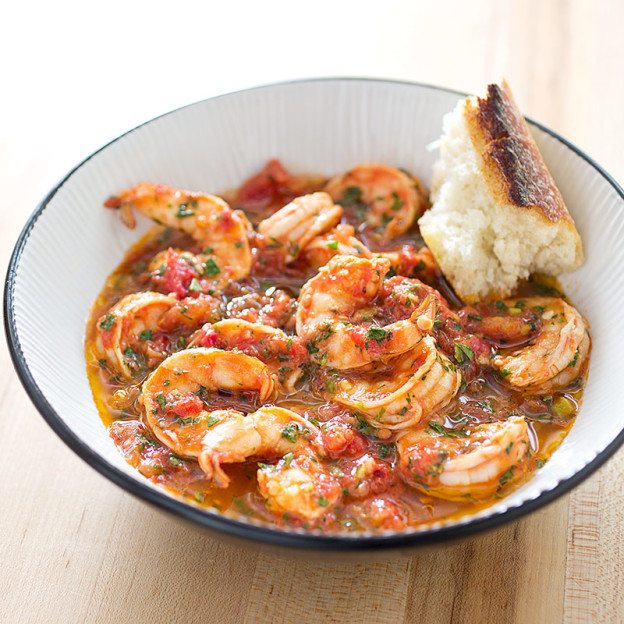 What image does your mind's eye conjure up when I say "Brother Devil"?  Personally, I see me holding a glass of red wine and stirring a simmering pot in my kitchen! That's  because Brother Devil translates to Fra Diavolo –  an amazing sauce, usually tomato based, with chili peppers for heat.
If you love a dish with a little kick, this one is a gem. You can make a skillet version anytime, but this particular version cooks in the slow cooker for several hours, a process which melds the flavors and gives the sauce depth. It's easy to prep, delicious to eat, and makes your whole house smell amazing while it cooks!
Shrimp Fra Diavolo
Serves 6
Ingredients:
1 Tablespoon olive oil
1 medium onion, diced
3 cloves garlic, minced
1 teaspoon red pepper flakes
2 (15-ounce) cans diced fire-roasted tomatoes
1 teaspoon freshly ground black pepper
1.5 pounds medium-sized shrimp, peeled and deveined
2 Tablespoons fresh Italian parsley, minced
Directions:
1.  Heat the oil in a nonstick frying pan over medium-high heat.  Saute the onion,  for 8-10 minutes, until it is soft and translucent. Add the garlic, and red pepper flakes and stir till fragrant.
2.  Add the onion mixture, tomatoes, and black pepper to a 4-quart slow cooker.  Stir.  Cook on low for 2-3 hours.
3.  Add the shrimp.  Stir, cover, and cook on high for 15 minutes or until the shrimp is fully cooked. Stir in fresh parsley and serve over whole wheat pasta or cooked spaghetti squash or with a loaf of crusty bread.
Hint: Find your perfect heat. If you like more spice, add extra red pepper flakes. If you prefer your dish on the milder side, cut back on the amount.