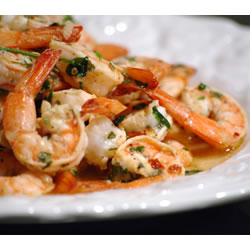 I promised you a Valentine's Day meal idea for your sweetheart, and here it is – a shrimp and pasta dish built for two. Even if you don't cook on MOST days, making a special meal on Valentine's Day is a lovely treat. Cook together if you can – so fun.
Get those shrimp marinating ahead of time and thread them onto the skewers before you start everything else because the rest of this dish is really quick to assemble.
You'll want a great bottle of champagne or a crisp white wine chilling to pour while you're whipping  up the sauce and plating the dishes. I like a few asparagus spears tossed in there, too. (Hint: they can grill right along with the shrimp!)
And don't forget to have some great dark chocolate on hand for dessert. No Valentine's Day meal would be complete without it.
Shrimp Scampi Linguine
adapted form All Recipes
Serves: 2
Ingredients:
For the shrimp:
1 Tbsp. and 1 tsp. olive oil
1 Tbsp. and 1 tsp. lemon juice
1 Tbsp. chopped fresh parsley
1 teaspoon minced garlic
ground black pepper to taste
crushed red pepper flakes to taste (optional)
1/2 pound medium shrimp, peeled and deveined
Wooden skewers
For the linguini and sauce:
6 oz. of whole grain linguine
1/2  stick unsalted butter
1 lemon (juiced)
1 Tbsp. minced garlic
¼ cup vegetable oil
1 Tbsp. red pepper flakes
splash of white wine
Directions:
For the shrimp and pasta:
1. In a medium bowl, mix the olive oil, lemon juice, fresh parsley, garlic, and black pepper together. Add the red pepper flakes if desired.
2. Add the shrimp and toss till coated. Marinate in the refrigerator for 30 minutes.
3. Thread the shrimp onto skewers, and heat the grill.
4. Cook linguini according to package directions. While it's cooking….
5. Grill shrimp skewers until opaque, turning once (usually 2-3 minutes). Set aside.
6. Drain pasta and set aside.
For the sauce and assembly:
1. Saute butter, lemon juice, minced garlic, vegetable oil, and red pepper flakes with a splash of white wine till fragrant and bubbling.
2. Toss sauce with linguine and place the grilled shrimp on top. Sprinkle with additional chopped parsley.
3. Enjoy with your special someone.