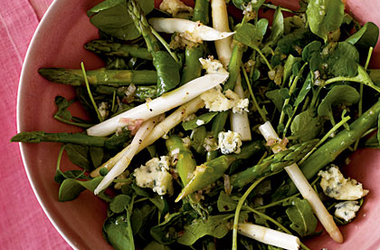 Sometimes less is more, and this is one of those times. Just a few simple, fresh, seasonal ingredients tossed together with a bit of creamy, indulgent gorgonzola for a salad that personifies spring! Don't get fancy here – just make this the way it's written and savor the flavors the way nature intended them.
Simple Asparagus Salad
adapted from Cooking Light
serves 4
Ingredients:
1 lb. green (and white, if you'd like) asparagus, trimmed and cut into (2-inch) pieces
2 1/4 teaspoons salt, divided
2 tablespoons white balsamic vinegar
2 tablespoons minced shallots
2 tablespoons extra-virgin olive oil
1/2 teaspoon grated lemon rind
1/4 teaspoon freshly ground black pepper
1/4 cup (1 oz.) crumbled Gorgonzola cheese, divided
5 oz. mixed greens
Directions:
1. In a pot of boiling water, cook asparagus and 2 teaspoons salt for 2 minutes or until crisp-tender. Plunge cooked asparagus into a bowl of ice water till cool. Remove from ice water and pat dry.
2. Combine remaining 1/4 teaspoon salt, vinegar, shallots and olive oil in a small bowl, stirring with a whisk. Stir in 1/4 cup cheese.
3. Combine blanched asparagus and greens in a large bowl. Drizzle with dressing; toss to coat.