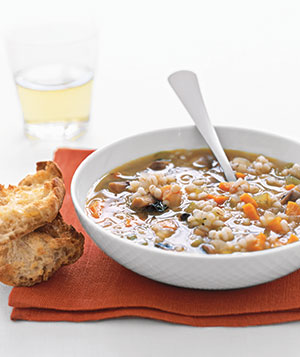 Okay class, we're doing a little Soup Math today. Nothing too difficult, but it helps me make my point!
If you think about Chicken Rice soup as a formula:
[Chicken + Rice + Button Mushrooms] = Chicken Rice Soup
then you'll see how a few simple substitutions gets you to this NEW soup!
[Smoked turkey + Barley + Shiitaki mushrooms] = New Riff on Chicken Rice Soup
This is what I mean when I talk about "riffing off of a basic recipe." You break the recipe down to it's basic elements and then play with substitutions, altering flavor and texture till you find a combination you like. This is a good example of making just enough of a change from the old standby to be interesting but not so much as to be unrecognizable.
See what you think – or better yet, create your OWN riff on the original!
Smoked Turkey, Shiitaki & Barley Soup
Serves: 5

Ingredients:
4 teaspoons olive oil
4 ounces smoked turkey, cut into 1/4-inch dice
1 cup diced sweet onion
1 cup diced carrot
1 cup diced celery
3-4 oz. thinly sliced shiitake mushroom caps
4 1/2 cups water
2 cups chicken broth
1/2 cup uncooked pearl barley
1 Tablespoon chopped fresh sage
1/4 teaspoon each of salt and pepper
1 bay leaf
Directions
1. Heat oil in a large soup pot over medium-high heat.  Add turkey, onion, carrot, and celery, and saute 5 minutes till meat is lightly browned, stirring occasionally.  Add mushrooms, cook 2 minutes or until tender.  Add water and rest of ingredients and bring to a boil.  Cover, reduce heat to low, and simmer for 45 minutes or until barley is cooked.  Discard bay leaf before serving.