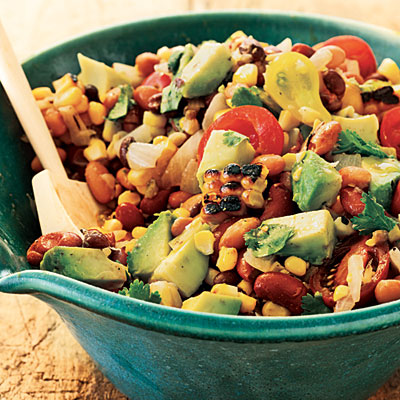 When my friend Jenni arrived at our neighborhood Fourth of July party with this salad in hand, I thought I'd won the lottery. A big bowl brimming with beans and veggies and chunks of avocado (I mean come ON) right there amid the burgers, hot dogs, and brats. I was delighted! I love a good cookout as much as the next person, but a big bowl of something fresh and healthy makes a welcome addition any time.
I asked for the recipe immediately, and she graciously agreed. I'm all for sharing my best finds with you, so here it is. There are a few extra steps in this one to grill the veggies, but they're worth it because grilling brings out the natural sweetness in a way you won't get if the vegetables are left raw.
If you're storing leftovers, keep the avocado out so it doesn't turn black,and add fresh avocado when you're serving it again!
Spicy Summer Salad with Beans, Grilled Vegetables, Tomato & Avocado
serves 12
Ingredients
1 cup fresh tomato chunks
1 teaspoon salt, divided
3 ears corn, shucked
1 medium sweet onion, 1/4-inch-thick slices
1 jalapeño pepper
1 tablespoon olive oil
Cooking spray
1/3 cup chopped fresh cilantro
1/3 cup fresh lime juice
1 (15oz) can pinto beans, rinsed and drained
1 (15 oz) can black beans, rinsed and drained
1 (15 oz) can kidney beans, rinsed and drained
2 diced peeled avocados
Directions
1. Preheat the grill to medium-high heat.
2. Place the tomatoes in a large bowl, and sprinkle with 1/2 teaspoon salt. Let stand 10 minutes.
3. Brush the corn, onion, and jalapeño with oil. Place vegetables on grill rack coated with cooking spray. Grill corn for 12 minutes or until lightly charred, turning every few minutes. Grill onion slices and jalapeño 4 minutes on each side.
4. Let vegetables stand 5 minutes. Cut kernels from cobs. Coarsely chop onion. Finely chop jalapeño; discard stem.
5. Add corn, onion, and jalapeño to tomato mixture; toss well. Add remaining salt, cilantro, and next 4 ingredients (through kidney beans) to corn mixture; toss well. Top with chopped avocado before serving.