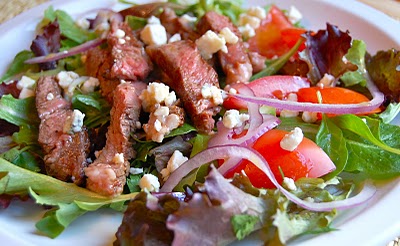 Every time we put a Steak Salad on the Nourish@Home menu, it's a top seller. There's just something hard to resist about a big pile of greens (in this case romaine, endive, and arugula) topped with fresh tomatoes and sliced onions, sprinkled with flavorful Gorgonzola, and tossed with just enough steak to make it a meal. You can use leftover steak if you wish, especially if you cut down on the amount of greens and fixings to make a salad for one. This version hasn't made it to our menu…yet. But try it yourself and see what you think!
Steakhouse Dinner Salad
4 servings
Ingredients

1/2 head of romaine lettuce, cut into bite size pieces
2 large heads of Belgian endive, thinly sliced crosswise (about 3 cups)
3 cups fresh baby arugula
12 cherry tomatoes halved
1/2 red onion, thinly sliced into rings
4 ounces Gorgonzola cheese, coarsely crumbled
About 1/8 teaspoon salt
About 1/4 teaspoon freshly ground black pepper
1 pound leftover steak (strip steak, rib eye, or filet mignon, cut crosswise into thin slices)
Directions
1.  In a large bowl, toss the lettuce, endive, arugula, tomatoes, and onion to combine.  Add half of the cheese and toss the salad with enough vinaigrette to coat.  Season the salad with salt and pepper to taste.
2.  Divide the salad equally among 4 plates and top with the steak slices.
3.  Drizzle more vinaigrette over the steak slices and sprinkle with the remaining cheese and serve immediately.