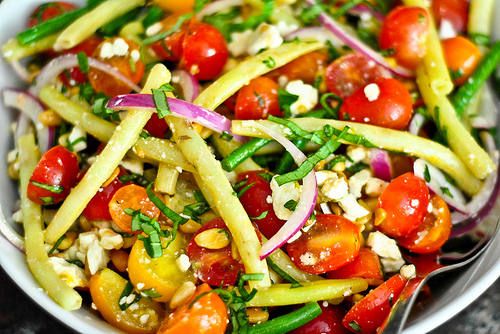 Two of my children have summer birthdays, a fact which leaves me constantly on the lookout for great salads that we can serve at family parties!
I made this one for my 3 year old's birthday and it won't be the last time it makes an appearance.  I had to make a few substitutions based on the produce I  had. I used green beans instead of wax beans,  edamame instead of fava beans, and yellow cherry tomatoes instead of red. I also omitted the chives. Call me a rebel.
But guess what? It was STILL delicious.
Try this one – it's a lovely way to showcase your farmer's market finds!
Summer Bean Salad
adapted from My Recipes

serves 4
Ingredients:
3 tablespoons extra virgin olive oil
1 teaspoon grated lemon zest
3 1/2 tablespoons fresh lemon juice, divided
1 tablespoon chopped fresh thyme
3/4 teaspoon freshly ground black pepper, divided
3/8 teaspoon kosher salt
8 cups water
8 ounces fresh yellow wax beans, cut into 1 1/2-inch pieces (about 3 cups) (or green beans)
2 cups shelled and peeled fava beans (about 3 pounds unshelled beans) (or frozen edamame)
2 cups quartered cherry tomatoes (yellow or red)
1 cup very thinly vertically sliced red onion
1 (15 1/2-ounce) can unsalted chickpeas (garbanzo beans), rinsed and drained
1/4 cup canola mayonnaise
1 tablespoon minced fresh chives
Directions:
1.  Combine oil, lemon zest, 2 tablespoons lemon juice, thyme, 1/2 teaspoon pepper, and salt in a large bowl, stirring with a whisk.
2.  Bring 8 cups water to a boil in a large saucepan. Add wax beans; cook 2 minutes. Add fava beans (or edamame) to wax beans in pan; cook an additional 2 minutes or until beans are tender. Drain and rinse with cold water. Drain again.  Add bean mixture, cherry tomatoes, onion, and chickpeas to dressing; toss well.
3.  Combine remaining 1 1/2 tablespoons lemon juice, remaining 1/4 teaspoon pepper, mayonnaise, and chives in a small bowl, stirring with a whisk. Let stand 10 minutes. Drizzle mayonnaise mixture over bean mixture and toss just before serving.