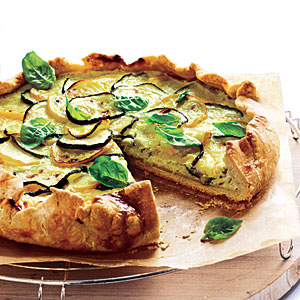 True confession. I usually do not whip out a galette for a weekday dinner. Promise. But this week, the mood struck, and I had fresh zucchini from my generous neighbor (she of Swiss Chard fame if you follow us on Facebook), and I just had to do it.
A galette, for the uninitiated, is basically a freestyle pie. In other words, yes it's SUPPOSED to look like that! You roll out the crust, layer on the toppings sort of like pizza, and then fold the edge of the crust over a bit, leaving the middle exposed. Don't you love how it looks all rustic and farmstand gorgeous?? This is "Tuesday gourmet" at its best.
The crust for this galette is made with olive oil instead of butter, and using a good (aka monounsaturated) fat boosts the health quotient enough for me to serve pie for dinner.
I paired this with a big salad of fresh lettuce, garden tomatoes, and a simple vinaigrette. Per-fect.
Summer Squash and Ricotta Galette
adapted from Cooking Light
serves 6

Ingredients
1 2/3 cups all-purpose flour (I did not use whole wheat – might try that next time)
1/2 teaspoon salt
1/2 teaspoon baking powder
1/3 cup plus 1 tablespoon extra-virgin olive oil, divided
1/4 cup water
1 medium zucchini, cut crosswise into 1/4-inch-thick slices
1 large yellow squash, cut crosswise into 1/4-inch-thick slices
2 garlic cloves, minced
3/4 cup part-skim ricotta cheese
2 ounces grated fresh Parmesan cheese (about 1/2 cup)
2 teaspoons chopped fresh thyme
1/2 teaspoon grated lemon rind
1 teaspoon fresh lemon juice
1/4 teaspoon black pepper
1 large egg, lightly beaten
1/4 teaspoon kosher salt
1 teaspoon water
1 large egg white
1/4 cup fresh basil leaves
Directions
1. Weigh or lightly spoon flour into dry measuring cups; level with a knife. Combine flour, salt, and baking powder in a food processor; pulse 2 times to combine. Combine 1/3 cup oil and 1/4 cup water in a small bowl. With processor on, slowly add oil mixture through food chute; process until dough is crumbly. Turn dough out onto a lightly floured surface. Knead 1 minute; add additional flour, if necessary, to prevent dough from sticking. Gently press dough into a 5-inch disk; wrap in plastic wrap, and chill at least 30 minutes.
2. Preheat oven to 400°.
3. Combine remaining 1 tablespoon oil, zucchini, squash, and garlic in a large bowl. Combine ricotta and next 6 ingredients (through egg) in a medium bowl, stirring to combine.
4. Unwrap dough, and roll into a 14-inch circle on a lightly floured surface. Place dough on a baking sheet lined with parchment paper. Spread ricotta mixture over dough, leaving a 2-inch border. Arrange zucchini and squash slices alternately, slightly overlapping, in a circular pattern over ricotta mixture. Sprinkle zucchini and squash with kosher salt. Fold edges of dough toward center, pressing gently to seal (dough will only partially cover squash). In a small bowl, whisk together 1 teaspoon water and egg white. Brush dough edges with egg white mixture. Bake at 400° for 40 minutes or until golden brown. Cool 5 minutes; sprinkle with basil. Cool an additional 15 minutes. Cut into 6 wedges.