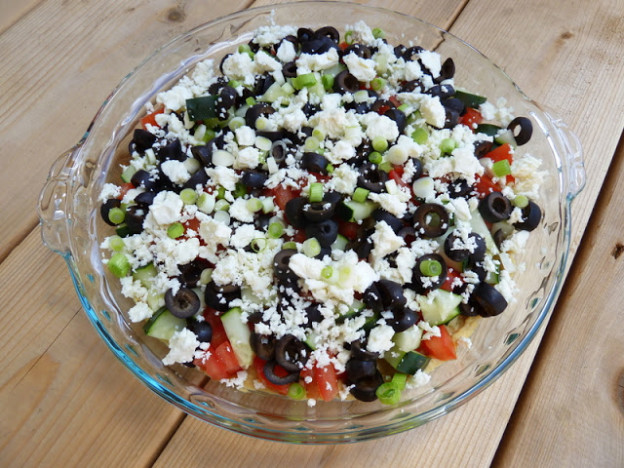 This week on Fox 19 I shared four Super Bowl Dip Makeovers – healthy AND delicious ideas for your game day party. Here are the clip and the recipes!
I'll be on a plane during the big game – think I can get anything close to these as an in-flight snack??  Wishful thinking…
Here's the clip! (PS – The quality of the video is not ideal in this; the studio had a little glitch on the day this aired, and this was the best quality that could be pulled. No biggie – just wanted you to know your eyesight is fine!)
Cincinnati News, FOX19-WXIX TV
Greek Party Dip
Ingredients
2 oz.  cream cheese, softened
2 tablespoon of lemon juice
2 tsp. dried Italian seasoning
3 cloves garlic, minced
1.5 cups of hummus (store bought is fine – pick your favorite)
1 cup of chopped cucumber
1 cup of chopped tomato
1/2 cup of chopped pitted Kalamata olives
1/2 cup of crumbled feta cheese
1/3 cup of sliced green onions
Pita chips and/or multigrain tortilla chips as dippers
Directions
1. In medium mixing bowl beat cream cheese, lemon juice, Italian seasoning, and garlic with electric mixer on medium speed until smooth and combined.
2. Spread cream cheese mixture into a deep 9-inch pie plate, or shallow serving dish. Evenly spread hummus on cream cheese layer. Top with cucumber, tomato, olives, feta cheese, and green onions. Cover and refrigerate 2 to 24 hours. Serve with pita chips and/or multigrain tortilla chips. Makes about 2-1/2 cups dip (16 servings).
Pineapple Black Bean Guacamole
Ingredients
2 medium avocados, halved, seeded, and peeled
1/4 cup salsa verde (green salsa – I like Herdez brand)
1 tablespoon of nonfat Greek Yogurt (optional, but a nice touch)
1/2 cup of finely chopped fresh pineapple
1/2 cup of canned black beans, rinsed and drained
1 jalapeno pepper, seeded and minced
2 tablespoons finely chopped red onion
2 tablespoons chopped fresh cilantro
1 tablespoon minced garlic
1 tablespoon lime juice
1/4 teaspoon salt
1/4 teaspoon ground cumin
Fresh cilantro as garnish
Tortilla chips as dippers
Directions
1. In a large bowl mash avocados. Stir in salsa and sour cream until combined. Stir in pineapple, beans, jalapeno, onion, cilantro, garlic, lime juice, salt, and cumin. Cover and chill for 2 hours or until ready to serve. Sprinkle with additional cilantro and serve with tortilla chips.
Healthy Black Bean Dip (Vegan)
Ingredients
1 small garlic clove, peeled
1 can black beans, rinsed + drained
3 tablespoons water
2 tablespoons extra virgin olive oil
1 tablespoon lime juice
1/2 teaspoon cumin
salt and pepper to taste
1/8 teaspoon cayenne (optional)
smoked paprika, as garnish (optional)
Tortilla chips, Pita Chips, and Fresh Vegetables as dippers
Directions
1. In a large food processor, pulse the garlic clove until finely chopped.  Scrape the sides of the bowl.
2. Add in all other ingredients and blend until smooth, scraping the sides of the bowl as needed.  Taste and add more salt, pepper, or cayenne if desired.  Add more water to thin if necessary.
3. Chill till serving time.  Garnish with smoked paprika and a spritz of lime.  Serve with chips and/or veggies as dippers
Light Buffalo Chicken Dip

Ingredients
12 oz can of chicken, drained or 1.5 cups shredded rotisserie chicken
6 oz. container non-fat plain Greek yogurt
4  low-fat cream cheese, softened
2 tablespoons low-fat mayonnaise
1/3 cup Frank's Red Hot Sauce (use to desired spiciness)
1-2 tablespoons Ranch dip mix
1/4 c. lowfat buttermilk
3 oz.   shredded sharp cheddar cheese
chopped fresh parsley
Directions
1. Mix yogurt, cream cheese, mayonnaise, hot sauce,  ranch dressing mix and buttermilk in a bowl until smooth. Stir in chicken.
2. Spoon mixture into a glass pie plate. Top with cheddar.
3. Microwave for 2-3 minutes, or until heated through. You can also bake in the oven at 350 degrees for 15 minutes till cheese is melted.
4. Garnish with fresh chopped parsley, if desired.
5. Serve warm with a variety of dippers – try celery sticks, carrots sliced diagonally, tortilla chips,  pita chips, or something else you love!