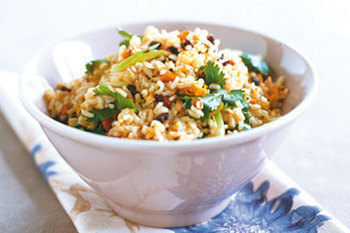 I'll bet my bottom dollar you'll be invited to party this spring or summer and asked to bring a dish to share. It's a rite of passage into outdoor entertaining season (and one I welcome, by the way!). When you're stumped, bring this! You'll be the belle of the ball.
No social occasions on your calendar? Then make it ahead to pull out on a jam-packed weeknight or to take instead of the usual "turkey on wheat" for lunch. This salad keeps beautifully and you can top it off with a little grilled chicken or sliced flank steak if you'd like. Yum.
Sweet and Salty Citrus Rice Salad
adapted from a Giada de Laurentiis recipe
serves 6
Ingredients
Rice Salad:
1/2 cup sliced almonds, toasted
4 cups low-sodium chicken stock
1/2 teaspoon kosher salt
2 tablespoons extra-virgin olive oil
2 cups brown basmati rice
3/4 cup chopped fresh flat-leaf parsley
1 medium orange, zested (save the fruit to juice!)
1 lemon, zested (ditto)
1 cup thinly sliced green onions
Vinaigrette:
1/2 cup extra-virgin olive oil
1/4 cup fresh orange juice (from fruit saved above)
3 tablespoons fresh lemon juice (from fruit saved above)
2 tablespoons soy sauce
1 tablespoon honey
1 1/2 teaspoons ground cumin
Kosher salt and freshly ground black pepper
Directions:
For the Salad:
In a medium saucepan, bring the chicken stock, salt and oil to a boil over medium-high heat Stir in the rice. Cover the saucepan, reduce the heat, and simmer until all the liquid has been absorbed and the rice is tender, about 40 minutes. Remove the pan from the heat and let sit for 5 minutes. Using a fork, fluff the rice and place in a large serving bowl. Add the parsley, orange zest, half of the lemon zest, green onions, and 1/4 cup of the almonds. Toss well.
For the Vinaigrette:
In a blender, combine the olive oil, orange juice, lemon juice, soy sauce, honey, and cumin. Blend until smooth. Season with salt and pepper, to taste.
Pour the vinaigrette over the rice mixture and stir well. Season with salt and pepper, to taste. Garnish with the remaining lemon zest and almonds.