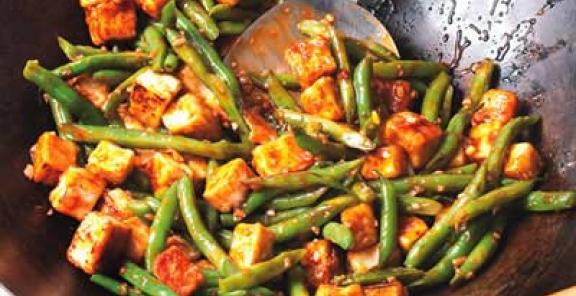 If you're incorporating more meatless meals into your lifestyle, this is a great dish to try! If you ask me, tofu is at its absolute best when it's cooked till crispy on the edges, and the technique used in this recipe is one way to get it to comply. The key is to thoroughly dry it first using paper towels to press out the moisture. Then, when it starts to cook you'll want to leave it untouched with one side touching the pan until it's browned and crispy. After that, you can turn it (infrequently) as it browns on the other sides of each cube. This mimics the texture you'd get from deep frying without all the added oil!
Green beans are the perfect pairing for this spicy sauce. You may want to serve this over brown rice but it works without it, too.
Did I mention this is ready in less than 30 minutes and has less than 225 calories (in a 1.5 cup serving)? For real.
Szechuan Green Bean & Tofu Stir Fry
adapted from Eating Well
serves 6
Ingredients:
1/2 cup water, divided
1/4 cup reduced-sodium soy sauce
1 tablespoon tomato paste
2 teaspoons balsamic vinegar
2 teaspoons sugar
1/4-1/2 teaspoon crushed red pepper, or to taste
1 teaspoon plus 2 tablespoons cornstarch, divided
1 14-ounce package extra-firm tofu, drained
2 tablespoons canola oil, divided
4 cups (or more) green beans, trimmed and cut in half
4 cloves garlic, minced
2 teaspoons minced fresh ginger
Directions:
1. Whisk 1/4 cup water, soy sauce, tomato paste, vinegar, sugar, crushed red pepper and 1 teaspoon cornstarch in a bowl. Set aside. Cut tofu into 1/2- to 3/4-inch cubes and blot dry using paper towels. Toss the tofu with the remaining 2 tablespoons cornstarch to coat.
2. Heat 1 tablespoon oil in a wok or large skillet over medium-high heat. Add the tofu and spread out across the surface of the pan. Let cook undisturbed for 2 minutes so that it browns. Gently turn and stir. Continue cooking, stirring occasionally, until lightly browned and crispy, 2 to 3 minutes more. Transfer to a plate and set aside.
3. Reduce heat to medium. Add the remaining 1 tablespoon oil to the pan. Add green beans, garlic and ginger; cook, stirring constantly, for 1 minute. Add the remaining 1/4 cup water, cover and cook until the beans are crisp-tender, 2 to 4 minutes. Stir the reserved soy sauce mixture and pour it over the green beans. Cook, stirring, until thickened, about 1 minute. Add the tofu and cook, stirring, until heated through, about 1 minute more.