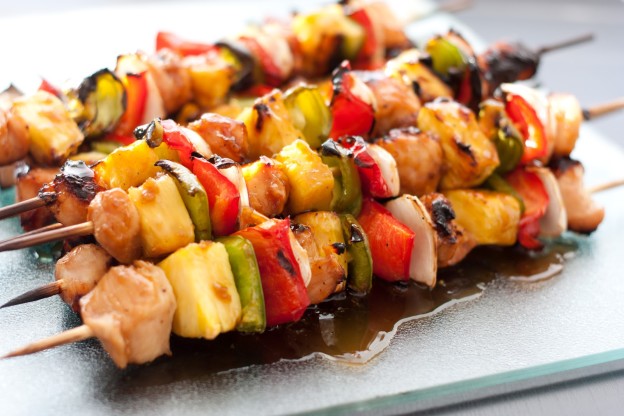 It's barbecue season…and if you need some fresh ideas to add to your grilling repertoire this year, here's a great one. These teriyaki skewers are easy to assemble and the sauce is delicious…all real ingredients – nothing too hard to find – and so much better than a bottled version.
The classic combination of chicken, peppers, onions, and pineapple pairs perfectly with this sauce. And, you can make the sauce and assemble the skewers in advance to grill when your guests arrive. Any recipe that lets me do that earns extra points in my book!
You could serve these on a bed of brown rice, farro, or quinoa or skip the grains altogether if the skewers are enough for you on their own.
Teriyaki Chicken Skewers
Serves: 4
Ingredients:
4 skinless, boneless chicken breast halves – cut into 1″ pieces
1 large green bell pepper, cut into 1-2″ pieces
1 onion, cut into wedges
1 large red bell pepper, cut into 1-2″ pieces
1 cup fresh pineapple chunks
wooden skewers
Teriyaki Sauce:
1 cup soy sauce
1 quart unsweetened pineapple juice
1 tablespoon garlic powder
1 tablespoon ground ginger
1 tablespoon dry mustard
1 teaspoon white pepper
1/4 cup brown sugar
Directions:
1. To make the sauce, puree the sauce ingredients in a blender or with an immersion blender. Set aside. (Refrigerate if making ahead.)
2. Thread the chicken, green bell pepper, red bell pepper, onion, and pineapple onto the skewers and lightly brush with olive oil. (Refrigerate if making ahead.)
3. Preheat the grill. When hot, carefully place the skewers on the grill.
4. Brush the kebabs with the teriyaki sauce. Continue to do so as they cook and as you turn them frequently for about 15 minutes until done.