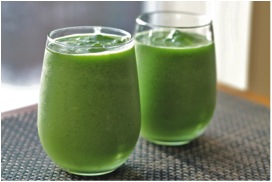 If you overindulged a bit yesterday, take heart! Thanksgiving is all about celebrating abundance, and I hope you enjoyed every single bite of your feast. I certainly did! This is no time for guilt; you SHOULD enjoy your favorite foods in the company of the people you love on a holiday.
The key to fitting holiday celebrations into your healthy lifestyle is simply to get back to normal as quickly as possible. If you're like me, you want to feel energized and level-headed going into the holiday season that is now officially upon us. So…
This green smoothie will do the trick. Your tummy will feel better and you'll have the spring back in your step after a pick-me-up like this one. It's refreshingly simple and will be oh-so-welcome today. By the way, this makes two smoothies (share one with someone you love!). I promise they'll thank you. Bottoms up!
Thanksgiving Recovery Drink
serves 2
Ingredients:
2 cups fresh spinach or kale
1 ½ cup water
1 cup pineapple (fresh or frozen)
1 cup mango (fresh or frozen)
1 medium banana
1 Tbsp. flaxseed
1 tsp. grated ginger
1 cup ice cubes
Directions
1. In a blender, blend water and greens together until smooth.
2. Add in pineapple, mango, banana, flax seed, and ginger and blend again until smooth.
3. Finally, add in ice cubes until there are no big chunks of ice left in the blender.