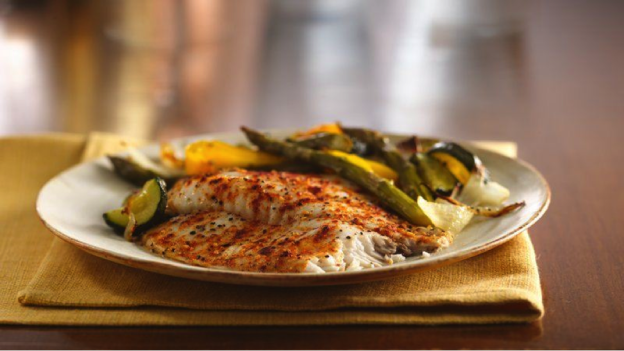 With the holidays behind us and a commitment to healthier habits in hand, here's a recipe for a simple, clean dinner that will leave you feeling satisfied without any guilt. The key to eating well is simple, really.  You'll want lots of vegetables, reasonable portions of lean proteins, and some high fiber, whole grain carbs. This dish doesn't have grains included, so you could pair it with a simple quinoa, or wheatberries, or whole wheat pasta if you'd like, but I think you'll find it doesn't need anything extra to make a lovely meal.
If you're curious, I've included the nutrition information at the bottom because it's even lower in calories than you are probably imagining.
Tilapia with Roasted Vegetables
serves 4
Ingredients:
½ lb. fresh asparagus spears, cut in half
2 small zucchini, halved length-wise, cut into ½ inch pieces
1 red bell pepper, cut into ½ inch strips
1 large yellow onion, cut into ½ inch wedges
2 Tbsp. olive oil
2 tsp. Lemon Pepper seasoning
4 Tilapia filets (about 1 ½ lb. total)
1 Tbsp. butter, melted
½ tsp. Paprika
Salt and Pepper
Directions:
1. Preheat oven to 450.
2. Prepare vegetables and combine in a large bowl with olive oil and 1 tsp. of Lemon Pepper Seasoning. Spread vegetables on a sheet pan and place in oven on lowest rack, bake for 5 minutes.
3. Spray a 13×9-inch baking dish with cooking spray. Pat dry the tilapia fillets, place in baking dish and brush with butter and sprinkle remaining 1 tsp. of lemon pepper seasoning and paprika.
4. Take the vegetables out of the oven and stir, place back in oven on the lowest rack. Place tilapia on the middle rack and continue to bake for 17 to 18 minutes or until the fish flakes and the vegetables are tender.
Nutrition:
This recipe is for 4 servings. Total calories per serving: 290 (110 from fat), Total fat: 12 grams, Cholesterol: 100 mg, Sodium: 520 mg, Carbohydrate: 11 grams, Protein: 35 grams, includes Vitamin A, C, Calcium and Iron.