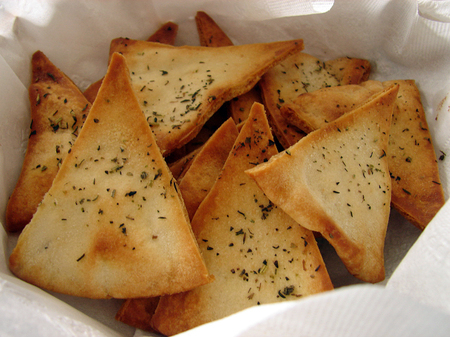 Unless you've been living under a rock for the last several years, you're probably familiar with the ubiquitous Stacy's Pita Crisps. They seem to make an appearance at virtually every party I attend alongside one dip or another. And, I'll admit, they're delicious! Not a bad choice health wise either, (unless of course you're prone to eat the whole bag). Pita is usually made with white flour so it's not the healthiest carbohydrate choice you can make,  but for a baked, crunchy snack, they still make my "keep "list. I'd say they're quickly becoming a classic replacing potato chips and pretzels as favorite party fare.
In this case, it turns out that you can improve upon a classic. I think the recipe that follows does just that. It's adapted slightly from Giada DeLaurentiis' version and it's simply delicious.  The garlic and oregano flavors take these dippers up a notch and breathe some new life into your appetizer hour. Try them this weekend with your favorite hummus  (or Giada's white bean dip)  –  rest assured that your house will smell AMAZING and your family or guests will help you avoid eating the entire batch by yourself!
Toasted Pita Crisps
Makes 48 crisps
Ingredients:
6 garlic-oregano pita bread rounds (I like Old World brand)
2 Tbsp. olive oil
1 tsp. kosher salt
1/2 tsp. freshly ground black pepper
Directions:
Preheat oven to 400. Brush pitas with olive oil and sprinkle with salt and pepper. Cut each pita into 8 triangles. Spread pieces evenly on a heavy-gauge cookie sheet. Bake 8 minutes. Flip triangles and bake 8 more minutes. Remove from oven, cool and eat.