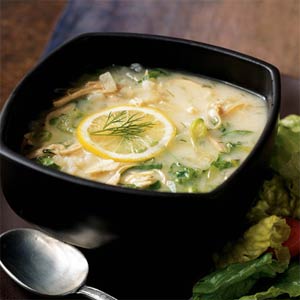 I'm wrapping up Soup Month on the blog with this incredible variation of a traditional Greek soup (one usually made with lamb). Instead, I'm using shredded turkey, and the end result is reminiscent of a simple chicken rice soup but the addition of bright flavors like lemon, shredded romaine, and green onions will have you dreaming of spring!
Lemon? In turkey soup? Yep, lemon. This soup is thickened with avgolemono which is a lemon/egg yolk combo mixed with the broth to create something truly amazing. Magiritsa…avgolemono…what next? I promise there won't be a spelling test…just go make the soup!
Turkey Magiritsa
Serves 6
Ingredients:
2 Tablespoons fresh lemon juice
1/2 teaspoon all purpose flour
2 large eggs
7 cups fat free, less-sodium chicken broth, divided
2 Tablespoons olive oil
2 1/2 cups finely chopped onion
Dash of salt
1 1/2 cups shredded cooked turkey or chicken
1 cup cooked short grain rice (preferably brown rice)
1 cup very thinly sliced romaine lettuce
1/2 cup sliced green onions
1/2 teaspoon fresh lemon juice
1/4 teaspoon salt
1/4 teaspoon freshly ground black pepper
Directions:
1.  Combine 2 Tablespoons lemon juice and flour in a bowl, whisk until smooth.  Add eggs, and whisk until combined.
2.  Bring 1 cup broth to a simmer in a medium sauce pan over medium high heat.  Gradually add hot broth to egg mixture, stirring constantly with a whisk.  Return egg mixture to a pan.  Cook 2 minutes or until slightly thick, whisking constantly.  Remove from heat, set aside.
3.  Heat oil in a large saucepan over medium-high heat.  Add onion and a dash of salt, saute 8 minutes or until tender.  Add 6 cups broth, and bring to a boil.  Reduce heat, and simmer 5 minutes.  Add turkey; simmer 2 minutes.  Add rice, and slowly mix in egg mixture.  Keep warm over low heat.  Add lettuce and remaining ingredients immediately before serving.