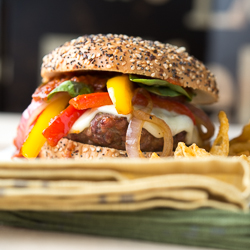 Sausage and Peppers is one of those quintessential summer sandwiches. The aroma is so distinctive – if you've ever had one, you know exactly what I mean. Nonetheless, I gave up pork sausage years ago because the fat content is so high that it's almost impossible to justify eating it.
This makeover of the classic is a great example of how to work the nostalgic flavors into your summer plans without wavering in your commitment to a healthy lifestyle. This calls for buns and cheese, but you could omit either if you prefer.
Turkey "Sausage & Peppers" Burger
serves 4
Ingredients:
1 sweet onion, halved and thinly sliced
1 green bell pepper, thinly sliced (use red or yellow if you'd prefer but the flavor will be sweeter)
1 Tablespoon olive oil
1 teaspoons dried oregano
1 teaspoon dried basil
1/4 teaspoon freshly ground pepper
12 ounces ground turkey (I like 93% lean)
2 links Italian turkey sausage, casings removed
1/4 cup dry breadcrumbs
1 teaspoon fennel seeds (optional)
1/2 teaspoon garlic powder
4 slices provolone cheese
4 small whole-wheat hamburger buns, toasted
Directions:
1.  Place a grill basket on one side of grill.  Preheat to medium-high.
2.  Toss onion, bell pepper, oil, 1/2 tsp oregano, 1/2 tsp basil, and pepper in large bowl.  Transfer to the preheated grill basket and  cook until the vegetables are tender, about 12 minutes..
3.  In a separate bowl, combine ground turkey, sausage, breadcrumbs, fennel seeds, garlic powder and the remaining oregano and basil.  Shape into four "burgers".
4. Oil the grill, place the burgers directly on the rack, and cook for 4 minutes.  Turn them once, top with the grilled vegetables and cheese; continue grilling until the burgers are cooked through and the cheese is melted, 4 to 6 minutes more.  Serve on buns.