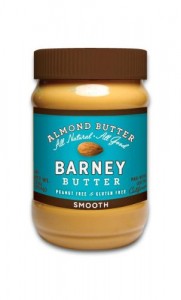 I can hear you now, "There are a lot of things I'll do to be healthier, but do NOT mess with my PB&J."
It's one of those sacred sandwiches – right up there with grilled cheese or tuna salad that are as much about nostalgia as they are about taste. Your mom made them a certain way with a certain brand and certain bread and they are not to be tampered with by someone like me!
I can understand why you might feel this way. Really, I can. But if you'll indulge me for a moment, let me show you why you're mistaken.
Almond butter is peanut butter's younger, healthier cousin. Its health benefits are anchored by its lower level of saturated fat – half that of peanut butter – but sometimes its texture doesn't live up to that of the processed brands most of us were raised on. Many versions are a little less sweet, a little less creamy, a little less rich than peanut butter. And to be clear, peanut butter's whole claim to fame IS its sweet, creamy richness!
Enter Barney Butter. The story is a fun one. You can read the long version here, but the short version is that a California mom (Jennifer Barney, so that explains the name) started whipping up batches of this stuff in her home, so enchanting friends and family that they urged her to make it commercially available. She did, and now we can all enjoy it. Locally, it's available at Whole Foods and Fresh Market (which I suspect is true nationally) and you can also order it online.  It doesn't separate or need to be stirred so your kids may not even notice the difference. It comes in smooth or crunchy varieties, just like your favorite peanut butter and it also comes in convenient snack packs that are great for travel! They'll even make it through airport security.
If you're a peanut-free family, this is manufactured in an almond-only facility. And if you're simply trying to find great tasting healthy upgrades for your favorite childhood treats, you're in sweet, creamy, rich luck.
*Just in case you're wondering, I do not get paid for product recommendations. I simply share what I've discovered so you can save yourself some homework and experimentation.