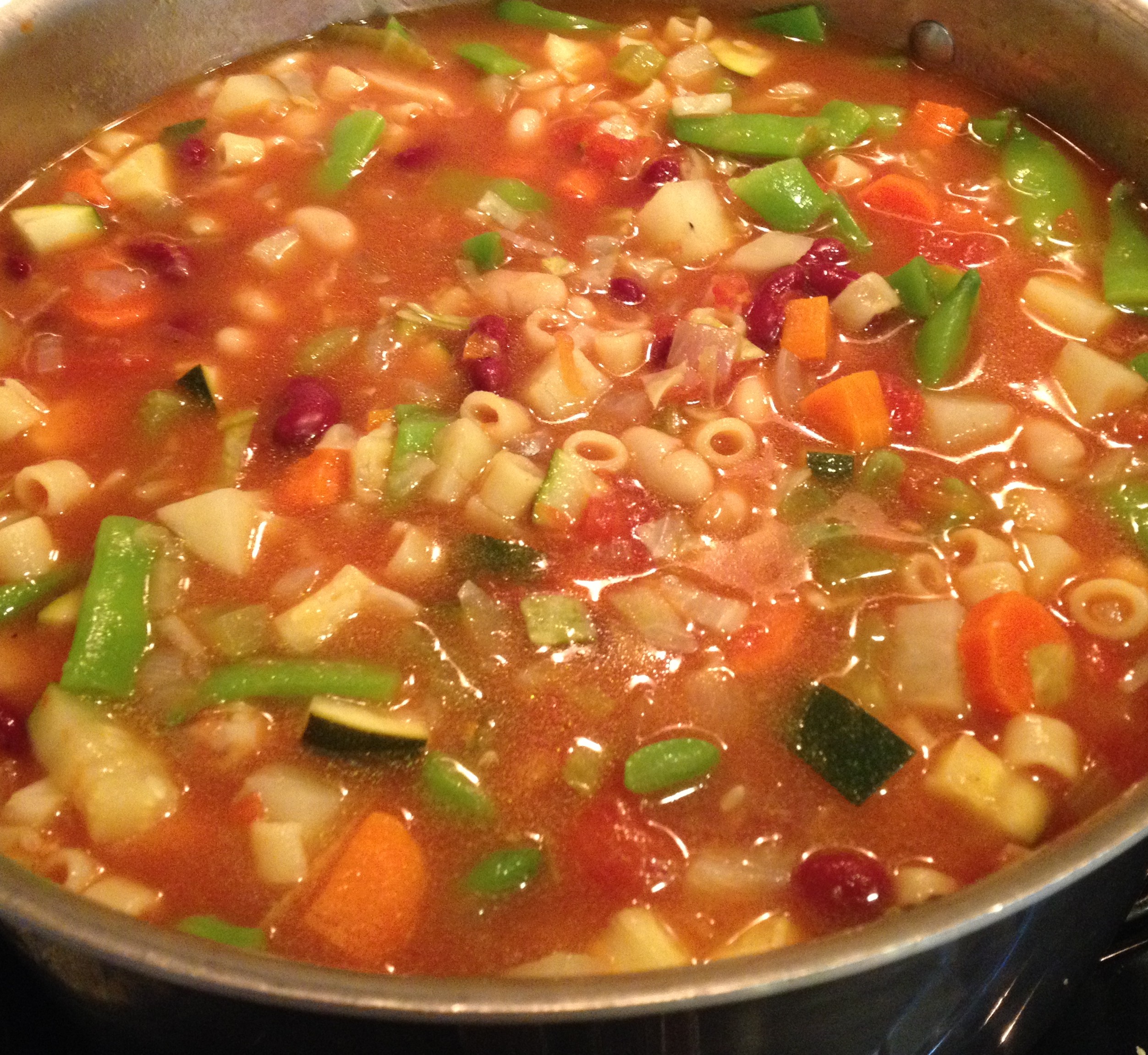 This is my go-to soup when I need a big pot of something warm and healthy around all week. It makes a brimming stockpot from which we can get several meals for the five of us. Besides, you know those days when your kids come home from school STARVING? This makes the perfect after-school snack – hearty and filling and healthy!
This uses vegetable broth to keep it vegan, but you can substitute chicken broth or beef broth if you prefer. I also include some pasta to make it really hearty, but if you're not eating pasta, you can omit that altogether without sacrificing much.
Vegetable Minestrone Soup

Serves: Many!
Ingredients:
2T olive oil
2T butter
1 large onion, diced
3 large carrots, diced
3 stalks celery, diced
2 medium potatoes, diced
½ lb green beans, cut into 1" pieces (or frozen Italian green beans)
8 c. vegetable broth (or chicken or beef)
½ small head cabbage, shredded
1 28 oz can undrained San Marzano style tomatoes
2 medium zucchini, diced
½ lb ditalini pasta (ideally whole wheat)
1 can cannellini beans, drained and rinsed
1 can kidney beans, drained and rinsed
Directions
1. In a large soup pot, heat oil and butter and cook onion, carrot, celery, potato, and green beans until softened, about 20 minutes.
2. Add broth, cabbage, tomatoes , zucchini. Heat to boiling. Add pasta.
3. Reduce heat to low and simmer 40 minutes until all vegetables are very tender and pasta is cooked.
4. Stir in beans and cook till heated through.