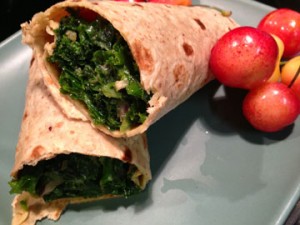 After you've had your fill of Valentine's Day goodies, and are ready for a change of pace, here's a lovely, light, flavorful idea for lunch or dinner. Kale, that nutritional powerhouse I can't stop talking about, is the star ingredient in this delicious wrap. It's chopped up and tossed with some finely diced carrot and fiber-rich white beans in an Asian-inspired dressing. When you roll this into a high fiber whole wheat wrap you have an incredibly healthy, satisfying and filling meal in your hands!
This makes four to six wraps depending on how much filling you stuff into each one…and any leftover filling can be eaten as a side salad on another day. One of the benefits of kale is that it holds up well, even after it's been dressed.
Vegetarian White Bean and Kale Wraps
makes 4-6 wraps
Ingredients:
4-6 whole wheat wraps or tortillas (I love the Ole Extreme Wellness High Fiber variety)
5 cups curly kale, finely chopped
1 carrot, peeled and finely diced
1 red pepper, finely diced
1 cup cannellini or other white bean, rinsed
2 teaspoons olive oil
3 tablespoons low-fat mayonnaise (or Vegenaise)
2 teaspoons low-sodium soy sauce
2 teaspoons honey or agave sweetener
2 teaspoons toasted sesame oil
salt and pepper to taste
Directions:
1. In a large bowl toss kale with olive oil (use your hands and massage it into the kale). Add carrot, red pepper, and beans. Set aside.
2. In a small bowl whisk together mayonnaise through salt and pepper. Pour over kale mixture and toss well to coat.
3. Divide kale mixture evenly between wraps. Fold or roll up and enjoy!