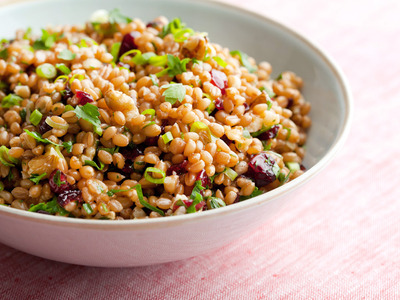 Have you tried wheat berries yet? They're not actually berries…they're kernels of wheat (all except for the hull)! These little nutrition powerhouses pack a ton of health benefits – namely fiber, folic acid, protein, B vitamins, vitamins E & C and minerals. That's a hard working salad if you ask me.
Consider this a healthy riff on a Waldorf Salad…great sweetness and crunch…but no mayo.  And apples! Aren't you ready for apples to be in season again? I know I am! I was so excited to see the first Honeycrisps at the grocery store this week – fall can happen now.
Wheat Berry and Apple Salad
makes 6-8 servings
Ingredients:
1 cup uncooked wheat berries
1 1/2 tablespoons apple cider vinegar
grated zest of 1 lemon
4 tablespoons extra-virgin olive oil
kosher salt and freshly ground black pepper
3/4 cup diced tart apples (such as Granny Smith)
3/4 cup halved red grapes
1/2 cup toasted walnut pieces
1/4 cup finely diced red onion
1/4 cup finely diced celery
1 tablespoons chopped fresh basil
Directions:
1. Bring 3 cups of water to a boil in a medium saucepan over medium-high heat. Add the wheat berries, reduce the heat to maintain a simmer and cook until tender, about 45 minutes. Drain the wheat berries in a colander and then spread them out on a rimmed baking sheet to allow them to cool to room temperature. You can refrigerate the cooked wheat berries to speed up this process.
2. Whisk the lemon zest and vinegar together in a small bowl. Slowly add the oil, whisking constantly, until the dressing is emulsified. Season to taste with salt and pepper.
3. In a large bowl combine the cooled wheat berries, apples, grapes, walnuts, onion, celery, and basil. Pour the dressing over the salad and gently toss to combine.
4. Best if allowed to sit for an hour or so. The salad can be refrigerated for up to 4 days.