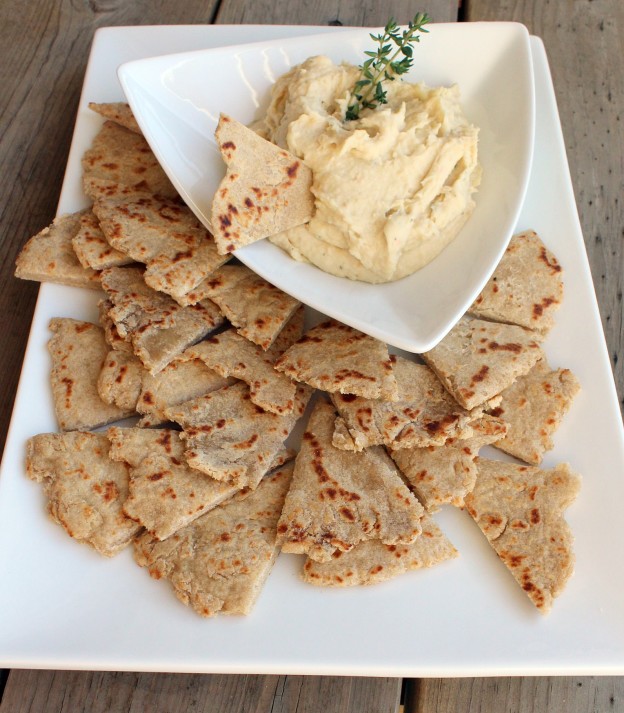 How are we doing with those healthy school lunches, everyone?? Do you have a fresh batch of ideas ready to go? Or are you facing another year of "sandwiches and sides"?
One trick to keeping lunch interesting is to mix things up by slipping some less traditional items into that lunchbox. As an example, this bean dip is packed with protein and fiber, and when you serve it with pita or naan and raw veggies, you have everything you need for a balanced lunch.
Plus, dipping! Hooray!
White Bean Dip
Makes 1 1/2 cups
Ingredients
4 Whole Wheat Pita Breads (or try Naan bread!)
1 can (19 oz.) cannellini beans (drained and rinsed)
3 tablespoons olive oil
3 tablespoons fresh lemon juice (from 1 lemon)
Coarse salt and freshly ground pepper
Chili powder for sprinkling
Variety of cut vegetables for dipping
Directions
1.  Preheat oven to 350°.  Cut pita bread into wedges and place on baking sheet.  Toast until lightly browned and crisp.  10-15 minutes, turning once halfway through.  Transfer to a plate to cool.
2.  In a food processor, combine beans, oil, and lemon juice;  season with salt and pepper.  Puree until smooth.
3.  Place puree into a serving bowl, and lightly sprinkle with chili powder.  Serve dip with toasted pita triangles (or naan, which I prefer soft) and tons of fresh veggies!