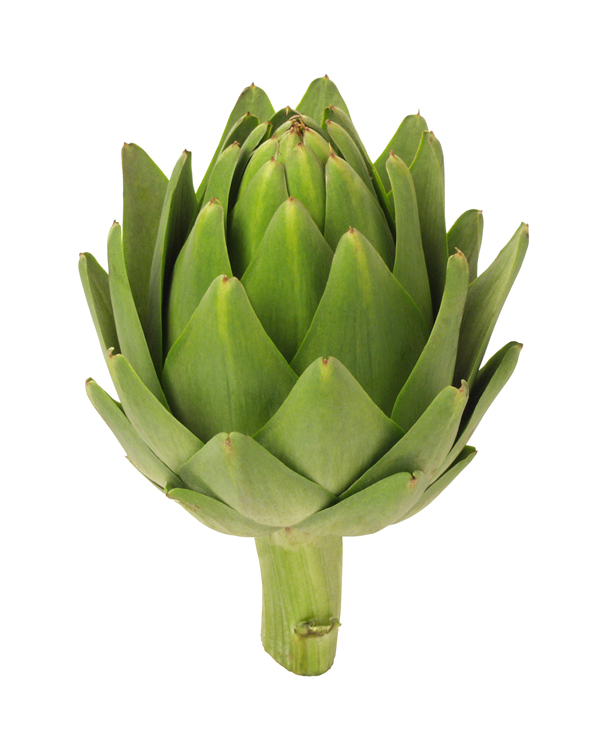 When I'm taking someone through a Whole Foods or grocery store to teach them how to shop in a more healthful way, we almost always begin in the produce section. It seems we often kick off with a discussion of how bored the client is with broccoli and cauliflower and baby carrots! With that as context, we make our way from display to display, and talk about how to select a perfectly ripe specimen of a pear or a melon or a tomato. I explain how to make zucchini or rapini or portobello mushrooms as delicious as can be. We demystify crazy-looking vegetables like swiss chard or ginger root or daikon radish. And eventually, we come to the artichokes. That's one pictured here, in case you've never seen one outside of its usual cheesy, creamy home, the beloved Spinach Artichoke Dip.
At this point I usually say, "Artichokes are sort of an advanced vegetable. They're a lot of work for not a lot of payoff. And since you can readily find them canned or frozen, I don't know many people who are willing to deal with them in their fresh state." But after a one-two punch from articles in both Eating Well and Cooking Light magazines that featured artichokes this month,  I'm changing my tune just a bit.
In short, artichokes are packed with health benefits – one whole one delivers 25% of your daily folate needs and 10 grams of fiber! Ten grams! That's 1/3 of your daily need. It also has more antioxidants than almost any other vegetable. That's a lot of good reasons to do find a way to fit them into your diet. Here are two suggestions.
If you'd like to try a healthy makeover to Spinach Artichoke Dip, and want to avoid wrestling with whole artichokes (which, for the record, I still think is a fair amount of work) here's one from Cooking Light that uses white beans instead of cream cheese. It's called, aptly enough, Artichoke, Spinach, and White Bean Dip and has just 87 calories in a delicious 1/4 cup serving.
If, however,  you're up for a little artichoke-wrestling, try this recipe for Steamed Artichokes with a Balsamic Dipping Sauce from Eating Well. You may want to double the sauce if you're making all four artichokes as directed.
Either way, you'll be getting a great dose of nutrients and fantastic flavor. Maybe a break from broccoli, cauliflower and baby carrots is just what you need to fall in love with vegetables again.