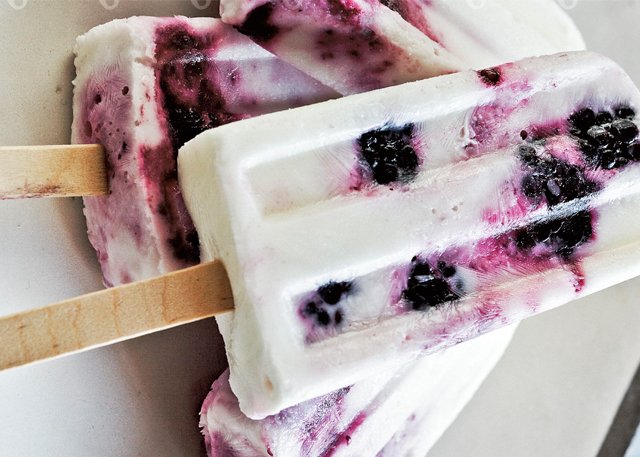 My kids are obsessed with their Zoku popsicle maker. The allure of nearly instant popsicles is like a siren song emanating from our freezer. We are making popsicles ALL-THE-TIME. When we're talking about 2 oz. of frozen 100% juice and the added bonus of cooking-as-entertainment, I'll admit that it's hard (and silly) for me to say no.
But I'm dying for variety. So I found this recipe and thought I'd give it a whirl. It's a little more effort than just pouring juice into the mold, but totally worth it for an occasional upgrade! And in case you're wondering, you don't have to have a Zoku – these work in old school popsicle molds, too! You're welcome.
Yogurt Berry Ice Pops
serves 8
Ingredients:
1 lemon
1/2 cup water
1/2 cup sugar
1 1/2 cups plain unsweetened Greek yogurt
2 tablespoons honey
2 cups fresh blackberries (or another berry of your choice)
Directions:
1. Rinse, then peel the lemon. (Save the lemon for a different use – we just need the peel.) Combine water and sugar in a small saucepan and stir till it comes to a boil and the sugar dissolves. Add the lemon peel, lower the heat, and simmer for 5 minutes. Cool to room temperature, strain through a fine-mesh sieve, and refrigerate till chilled. (You can do this the night before you want to make them to avoid the chorus of "Is it ready yeeeeeeeet?")
2. Add the yogurt and honey to the chilled syrup and stir until  combined.
3. Cut blackberries in half and set aside.
4. If using an instant pop maker like a Zoku, gently stir the berries into the  yogurt and freeze according to manufacturer's instructions.
5. If using conventional molds, put a bit of the yogurt mixture into each of the molds, to a height of about 3/4 inch. Freeze until the mixture begins to set. Add blackberries and remaining yogurt mixture. Snap on the lid and freeze until solid, 3 to 4 hours.