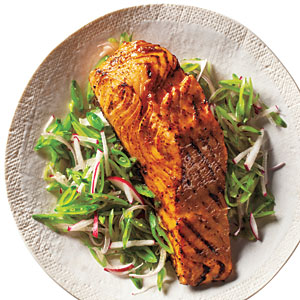 Since this is the first Friday of Lent, here's a fish dinner option for your Meatless Friday.  Serving fish on Fridays during Lent is tradition, and this healthier option of Barbecue Salmon is a big upgrade from the typical fried fish dinner.  The Snap Pea Slaw is an excellent accompaniment you'll want to make all Spring.
PS – I can't begin Lent without reminding you of this gem, either. A lovely upgrade to the traditional fish sandwich!
Barbecue Salmon with Snap Pea Slaw
adapted from Cooking Light
Serves: 4
Ingredients:
2 tablespoons dark sesame oil, divided
3 garlic cloves, crushed
1 (1/2-inch) piece fresh ginger, peeled
2 tablespoons fresh lime juice
2 tablespoons lower-sodium soy sauce
1 1/2 tablespoons ketchup
2 teaspoons dark brown sugar
1 teaspoon sambal oelek (ground fresh chile paste, such as Huy Fong)
4 (6-ounce) fresh or frozen sustainable salmon fillets (such as wild Alaskan), thawed
Cooking spray
2 cups sugar snap peas, trimmed and thinly sliced crosswise
1/2 cup grated radishes
1/4 cup very thinly vertically sliced shallots
2 teaspoons rice vinegar
1/4 teaspoon kosher salt
Directions:
1. Preheat grill.
2. Finely chop the garlic and ginger and mix with 1 tbsp of oil. Add the lime juice, soy sauce, ketchup, dark brown sugar, and chile paste. Thoroughly mix or pulse in a small food processor.
3. Place the salmon on the grill and brush each piece using about half of the sauce. Grill for 10 minutes.
4. Brush on the rest of the sauce and grill another 10 minutes. Remove when cooked through (fish will flake easily with a fork).
5. For the snap pea slaw, combine the peas, radishes, shallots, vinegar, and 1 tbsp oil. Mix and serve under the salmon.