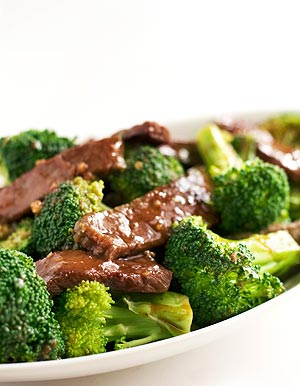 What is it about Chinese food? The complexity of flavors in those sauces just calls out to us, yet those same sauces can seem impossible to recreate at home.  I promise you it's easier than you think! You can make excellent replicas of your favorite Chinese dishes in your own kitchen, with much lower levels of salt, fat, and sugar (and no MSG!).
Like this one. Beef and Broccoli has to be one of the most frequently ordered dishes on any Chinese menu, and once you try this you'll see just how easy it is to make for yourself. Whip up a batch of brown rice and you'll be all set for a homemade takeout dinner!
Beef with Broccoli Makeover

Serves 5
Ingredients:
1/4 cup light brown sugar
2 tablespoons dry sherry
2 tablespoons soy sauce
2 teaspoons sesame oil
1 teaspoon finely grated fresh ginger
1/8 teaspoon crushed red pepper flakes (optional)
1 pound boneless beef top sirloin or flank steak, trimmed of fat
1 tablespoon vegetable oil
1 cup onions, sliced thinly into 2-inch long pieces
4 cups broccoli florets (and peeled stems, sliced)
1 red pepper, julienned
2 teaspoon cornstarch
1/4 cup water
Directions
1. Combine the sugar, sherry, soy sauce, sesame oil and ginger.  Add the pepper flakes if desired.  Slice the beef into 2 inch long thin strips.  Stir into the marinade and let rest for 1/2 hour.
2. Heat a large non-stick wok or skillet.  Pour in the vegetable oil.  Stir in the onions and cook about 1 minute.  Put the meat and marinade into the wok and cook, stirring constantly, until the steak is browned on all sides.  Stir in the broccoli and bell pepper.  Cook about 3 minutes, covered, until the broccoli softens slightly and turns bright green.  Shake the pan frequently.