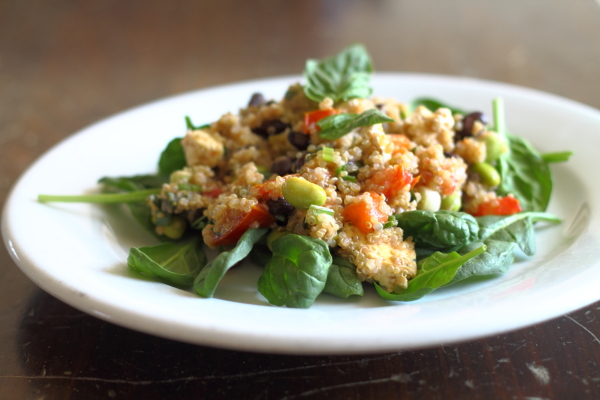 Since the weather has blessedly turned a bit warmer here in Cincinnati (okay, truthfully we're all jumping the gun and running around in shorts and teeshirts because we can hardly believe that 10 days ago we were shoveling SNOW) , this week's meatless meal idea is a cold quinoa salad.
Made heartier by the addition of Lima beans and black beans, this is a great meal for an evening when you want to channel spring. You can make it ahead and eat it after you've made time for a walk or a run or a quick game of pickup basketball, just because you finally CAN.
Black Bean Quinoa Salad with Lemon-Basil Dressing
Ingredients:
1 ½ cups uncooked quinoa
3 cups vegetable broth
2 Tbs. olive oil
1 tsp. salt
1 cup fresh basil, chopped
3 Tbs. fresh lemon juice
2 Tbs. Dijon mustard
1 tsp. sugar
2 tsp. grated lemon rind
½ tsp pepper
3 tsp. minced garlic
1 (10 oz. package) frozen Lima beans or edamame
4 cups chopped tomatoes
½ cup sliced green onions
½ cup chopped carrot
1 (15 oz.) can black beans, rinsed and drained
Directions:
Combine quinoa and vegetable broth in a saucepan, bring to a boil then reduce to a simmer and cover pan for 15 minutes or until all of the broth is absorbed. Remove from heat.
Cook Lima beans or edamame according to package, omitting salt and fat. Cool completely.
Combine olive oil, salt, basil, lemon juice, Dijon mustard, sugar, lemon rind, pepper, and minced garlic. Once well combined stir in cooked quinoa.
Add cooled Lima beans, tomatoes, green onions, carrots, and black beans to the quinoa and stir to combine. Chill in refrigerator until ready to serve.
Serve as is or atop a bed of baby spinach.