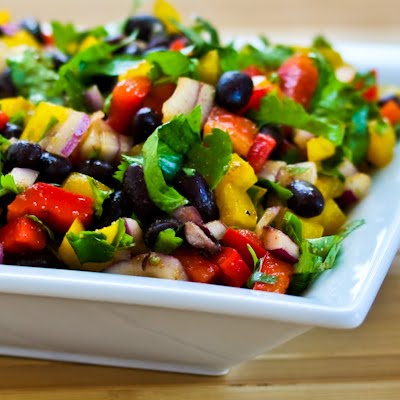 With football season in full swing, I'm always on the lookout for dishes that make game day snacking fun, but don't leave you with a "snack hangover". This black bean salsa is a great choice to bring to a tailgate or party…or just to whip up before the Saturday afternoon game.
Full of fiber-rich black beans and colorful fresh veggies, this is one party dish you can feel great about serving. After all, it's basically a salad! Just keep the chips to a reasonable portion and you're all set.
Ingredients:
1/2 large cucumber, peeled and diced
2 cans black beans, rinsed and drained
1/2 large yellow pepper, diced
1 Tbsp. minced jalapeno pepper
1/4 cup chopped green onion
1 clove garlic, minced
4 roma or hot house tomatoes, diced
Juice of 1 lemon or lime
2 Tbsp. olive oil
2 Tbsp. red wine vinegar
1/2 tsp. dried basil
1/2 tsp. ground cumin
1 tsp. chili powder
Directions:
1.  Mix all ingredients together, chill. Serve with tortilla chips.
2.  This is also great served over grilled chicken, pork, or salmon.