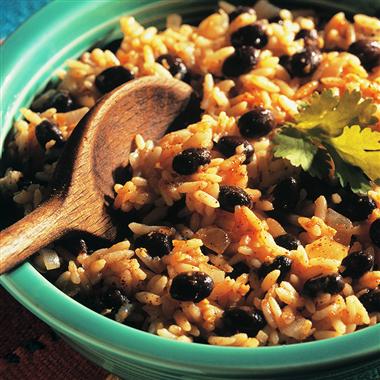 Once or twice a week, I cook a meatless meal. It was a bit of an adjustment for my family at first, years ago, but now it seems perfectly natural. This particular favorite was originally made with white rice, but I upgraded that to brown at some point. In the spirit of full disclosure, I will normally cook the rice in advance and then just reheat it with the other ingredients on the night we're eating the dish. That way I can have rice simmering away while I'm doing other things one evening and I can skip the 50 minute cooking time on a night when everyone is ravenous! These little prep tricks make all the difference when there's not much time between your arrival home from work and your family's dinner time!
If you'd rather use the "90 second" brown rice that they sell in pouches at the grocery store, knock yourself out. Nutritionally speaking, it's not any different than cooking it yourself , as long as you're buying the unflavored variety. The flavored ones are loaded with added sodium, so I'd stay away from those.
Try this easy dish – make a fruit salad or a tossed salad to go with it and you're set up for a quick, healthy meal.
Black Beans & Rice

serves 4 as a main dish
Ingredients
2 cups water
1 teaspoon kosher salt, divided
1 cup long-grain brown rice
3 bay leaves
1 tablespoon vegetable oil
1 cup chopped onions
1 green bell pepper, chopped
1 chili pepper or jalepeno (fresh or canned) seeded and minced
2 gloves garlic, minced
2 cups cooked black beans, drained and rinsed
Directions:
1.  Bring water and 1/2 teaspoon of salt to a boil.  Add the rice and bay leaves, reduce to a gentle simmer, cover, and let cook for 50 minutes, until all the water is absorbed.  Remove the bay leaves.
2.  Meanwhile, heat the oil in a skillet.  Add the onions, bell pepper, chili pepper, and garlic.  Cook over moderate heat, stirring frequently, until the onions turn gold.  Keep covered between stirrings.  Stir in the black beans and remaining salt.  Heat through.
3.  Toss the beans with rice and, if necessary, warm through.