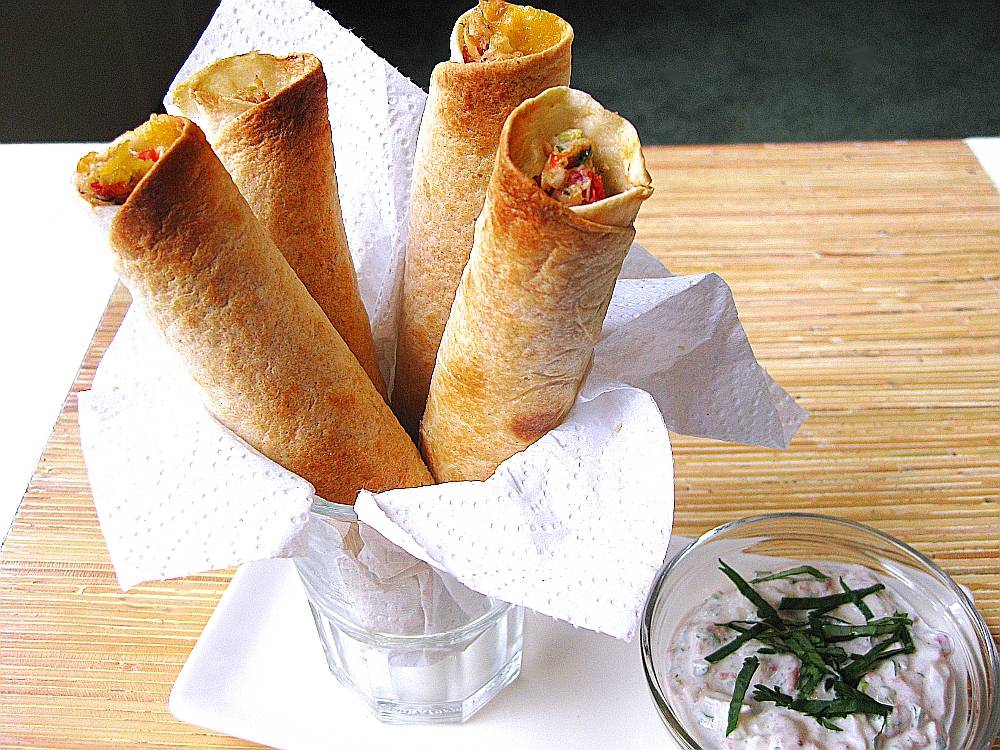 It's almost game time, so here's one more healthy idea for your Superbowl party! Everyone seems to love Buffalo Chicken ANYTHING so this wrap gives you all that goodness in a slightly healthier way than you'd get with, say, wings.
I think the key to getting through parties like the ones you'll be attending on Sunday without feeling guilty and overstuffed is to make sure there's something SUBSTANTIAL in the mix. You want one or more heartier appetizers that can serve as a meal (like this one) or else you want to anchor the party with a big pot of soup, or chili, or a slow cooker of pulled pork like I shared last week. Without those in the mix, it's too easy to graze all afternoon on chips and dips and sweets and to end up feeling a little off kilter having consumed too many calories without any real nourishment.
This little number solves the conundrum for you because it's hearty enough to be a meal, but still feels like fun finger food that you want at a party. You're welcome.
Buffalo Chicken Wrap Appetizer
serves: 8
Ingredients:
2 teaspoons olive oil
1/2 cup onion, finely diced
1 clove garlic, minced
1/2 cup celery, thinly sliced
1 pound ground chicken
1 tablespoon ranch dressing mix
1/2 cup hot sauce (we like Frank's Red Hot)
16 small (fajita size) whole grain wraps
light ranch dressing for dipping
Directions:
1. Heat olive oil over medium heat. Saute the onions and celery until soft, 3-5 minutes. Add garlic and cook for 1 minute more. Add ground chicken, ranch dressing, and a dash of salt and pepper. Cook chicken until no longer pink. Spoon off any grease.
2. Add hot sauce to pan. Reduce heat to low and simmer for a couple of minutes to allow the flavors to blend.
3. Spoon a couple of tablespoons of chicken into wraps and roll tightly. Wraps can be served at this point or you can heat for 10 -15 minutes on a baking sheet coated with cooking spray in a 375 degree oven until lightly browned and heated through.
4. Serve with ranch dressing and extra hot sauce for dipping.
Note: If you're a bleu cheese person when it comes to buffalo chicken, then omit the ranch dressing mix and add a tablespoon of blue cheese instead when you're making the wraps.  Serve with extra blue cheese dressing on the side instead of Ranch.