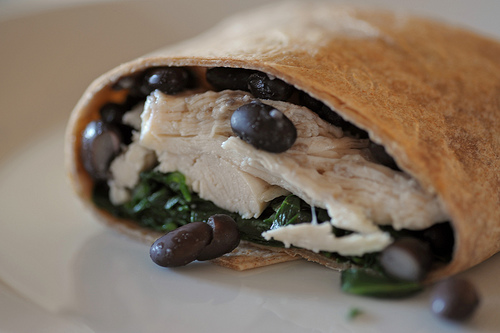 If the arrival of warmer weather makes you crave Mexican food eaten al fresco, but you normally shy away from it because you think it's unhealthy…think again! Remaking less-than-ideal restaurant meals at home can shave tons of calories and fat while preserving the essence of the flavors and textures you love.
Take, for example, these chicken and black bean burritos. Staying in control of the preparation of the meat, the amount of cheese and sour cream and the fiber content of the burrito turns what could be an overstuffed restaurant meal into a healthful meal for under 350 calories! I serve these with a salad of greens, tomatoes and cucumbers…maybe a few chunks of Hass avocado…and a little vinaigrette. They're delicious and go together quickly so they make a perfect weeknight dinner. Try them and see what you think!
Black Bean and Chicken Burritos
Serves 6
| | |
| --- | --- |
| 1 T. canola oil | 2 c. black beans, drained & rinsed |
| 1 c. chopped red onion | 1 T. fresh lime juice |
| 1 lb. chicken breast, cut in strips | 4 oz diced canned green chiles |
| ½ tsp kosher salt | 1-2 T. chopped fresh cilantro |
| 1 tsp chili powder | 6 lg whole wheat tortillas |
| Salsa | Sour cream |
Heat the oil in a large nonstick skillet. Toss together the onions, chicken salt and chili powder and put in the skillet. Cook over high heat, stirring constantly, until the chicken is cooked through, about 6-8 minutes.

Stir in the beans, lime juice, chiles and cilantro and warm through. Remove from the stove, cover and keep warm.

Warm the tortillas. Fill each tortilla with ½ c. of the chicken mixture. Roll and place seam side down on a serving dish. Serve with small amounts of salsa and sour cream.