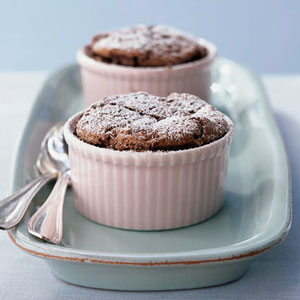 When I think of fancy grown up food, I think of chocolate souffles. They just sounds so positively domestic. And time consuming. And complicated. Ahem.
You may have avoided trying your hand at these in years gone by, fearing they'd be difficult. But really, they're not! These little souffles make an adorable dessert for Valentine's Day and they're not hard at all. Okay, so you have to know the term "stiff peaks" but trust me you can handle it.
And besides, there's nothing like warm chocolate straight out of the oven… except the feeling of accomplishment that comes with knowing you can bake a souffle with the best of 'em.
Happy Valentine's Day!
Chocolate Souffles for Two
Ingredients:
½ cup water
¼ cup powdered sugar
2 Tbs. unsweetened cocoa powder
2 Tbs. 1% low-fat milk
1 ½ tsp. all-purpose flour
1 large egg yolk
1/8 tsp. vanilla extract
1 large egg white
1/8 tsp. cream of tartar
1 Tbs. granulated sugar
2 tsp. powdered sugar
Directions:
1. Preheat oven to 350.
2. Combine water, powdered sugar, cocoa powder, milk, flour, and egg yolk in the top pan of a double boiler. Stir constantly with a whisk until thick, about 10 minutes. Remove from heat and add vanilla extract.
3. In a separate bowl, beat egg white and cream of tartar with an electric mixer on high speed until peaks form. Gradually add 1 Tbs. of granulated sugar and beat until stiff peaks form. If you're not sure what stiff peaks look like, here's a guide.
4. Gently fold ¼ of the egg mixture into the chocolate mixture with a spoon.  Then fold in the remaining egg mixture and stir very gently, or the souffle will not rise.
5. Spoon the souffle mixture evenly into two 8 oz. ramekins, coated with cooking spray. Bake for 20 minutes until puffy and set. Sprinkle each soufflé with 1 tsp. of powdered sugar and serve immediately.