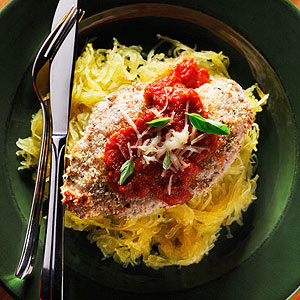 Continuing down the clean eating path this month, here's a recipe chock full of simple ingredients that's oh-so-satisfying. It has all the flavors of chicken parmesan, but by substituting spaghetti squash for pasta we keep it low carb and by baking (vs. frying) the chicken and omitting the mozzarella, we keep the fat in check! There's a time and a place for the real deal, but I think you'll find this clean version to be absolutely delicious.
Clean Eating "Chicken Parmesan"
Serves 6
Ingredients:
1 (3 lb.) spaghetti squash
1 ½ lb. chicken breast, boneless and skinless
1 Tbs. olive oil
1/2 sweet onion minced
2 garlic cloves, minced
2 (14.5 oz. can) no salt added diced tomatoes
½ cup slivered fresh basil
6 Tbs. shredded parmigiano reggiano
Salt and Pepper
Directions:
1. Preheat oven to 350 degrees F.
2. Cut squash in half lengthwise. Scoop out seeds and discard. Place squash halves, cut sides down, on a baking sheet coated with cooking spray. Bake for 1 hour or until tender. (Fifteen minutes into cooking time, add chicken to oven. See step 3.)
3. Season chicken breast with salt and pepper, then place in a 13×9 inch baking pan. Bake in oven, with the spaghetti squash for 30-45 minutes, or until fully cooked.
4. Heat oil in a saucepan over medium heat. Add onion and saute about 5 minutes till translucent. Add garlic, and cook for 30 seconds till fragrant. Add tomatoes and allow to simmer for 15 minutes or until thickened. Remove from heat and stir in 1/3 cup basil.
5. Cool squash at room temperature for 10 minutes or until cool enough to handle. Scrape inside of squash with a fork to remove spaghetti-like strands to measure about 5 cups.
6. Divide squash evenly among 6 plates; top each serving with 4 oz. of chicken breast, about 1/3 cup sauce, and 1 tablespoon of parmesan cheese. Top with remaining basil.
Nutrition Facts:  Total Calories per serving: 317, Total Fat: 8.5 grams, Protein: 38.8 grams, Carbohydrate: 19.2 g, Cholesterol: 98 mg, Sodium: 650 mg, also includes iron, calcium, and potassium.