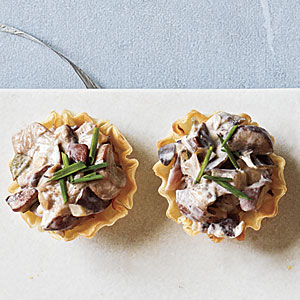 I'm betting you have a party or two to attend this month, and you just might have been asked to bring "an appetizer or dessert to share." Yes? Okay good. No need to fret. Let's get you set up to shine.
This recipe has all the savory goodness of wild mushrooms, shallots, goat cheese, fresh herbs, and sherry giving it high impact flavor. And yet, it leverages premade phyllo cups (you'll find them in the freezer aisle) to keep it simple. You can whip up the filling before you leave the house , but if you're bringing this to a party, I would take the warm filling in a bowl and fill the shells when you arrive so they don't get soggy.
Creamy Wild Mushroom and Goat Cheese Cups
Adapted from Cooking Light
Makes: 30 filled cups

Ingredients:
2 Tablespoons extra-virgin olive oil
1/2 cup chopped shallots (about 2 large)
2 Tablespoons chopped fresh sage
3/8 teaspoon kosher salt, divided
1/8 teaspoon freshly ground black pepper
1 pound exotic mushrooms (such as shiitake, cremini, and oyster) chopped
1 1/2 Tablespoons minced garlic
1/3 cup dry sherry
1 teaspoon lower-sodium soy sauce
3 Tablespoons light sour cream
3 Tablespoons half-and-half
2 ounces goat cheese (about 1/4 cup)
2 (2.1 ounce) packages frozen mini phyllo shells thawed (30 shells)
2 Tablespoons chopped fresh chives
Directions
1. Heat a large nonstick skillet over medium-high heat.  Add oil to pan; swirl to coat.  Add shallots, and saute 1 minute.  Add sage, 1/4 teaspoon salt, pepper, and mushrooms; saute 4 minutes.  Add garlic, and saute until mushrooms are lightly browned and liquid almost evaporates (about 5 minutes).  Stir in sherry and soy sauce; cook for 30 seconds or until liquid almost evaporates.  Place mushroom mixture in a medium bowl.  Stir in the remaining 1/8 teasp0on salt, sour cream, half-and-half, and goat cheese.  Spoon about 2 teaspoons mushroom mixture into each phyllo shell.  Garnish with fresh chives.