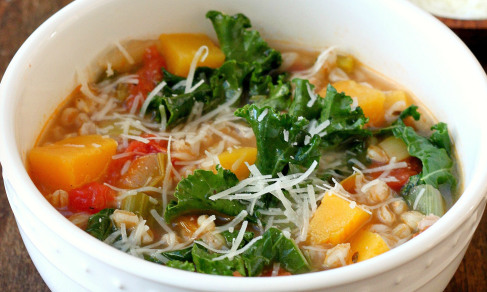 This recipe comes to you from the files of a lovely lady and loyal blog reader whom I've known since I was born! A dear friend of my mother's, and a sweet presence in my life for nearly forty years, Louise is a bundle of energy and the picture of health and vibrancy, even now well into her eighties. She wakes up early to swim, regularly cooks lunch for a cast of family, friends and neighbors, and generally makes the world a better place with her very presence.
I have so many fond memories of enjoying of the bounty of her garden, sharing in her Italian feasts, and indulging in her famous holiday cookies. This dear woman can  cook.
One half of a pair of lifelong best friends known by nearly everyone in town as "Day Day and Louise," she holds a special place in my heart.
This delicious soup will hold a special place in yours – enjoy!
Farro and Kale Soup
Serves 6
Ingredients:
1 tablespoon olive oil
1 medium yellow onion, chopped
2 garlic cloves, finely chopped
1 cup farro
6 cups reduced-sodium chicken broth
2 cups peeled butternut squash cubes (1/2 inch)
1 (28-ounce) can Italian plum tomatoes with juice
1 (2-inch) piece Parmigiano cheese rind
1 teaspoon dried thyme or 1 tablespoon fresh thyme
1/2 teaspoon salt
2 cups coarsely chopped green kale
Grated Parmiagiano Reggiano cheese (optional)
Directions:
1.  Heat oil in a soup pot over medium heat.  Add onion and saute until softened 2-3 minutes.  Add garlic and saute 1 minute.  Add farro and stir to coat.  Add broth, squash, tomatoes, cheese rind, thyme and salt.  Bring to a boil, breaking up tomatoes with a wooden spoon.
2.  Reduce heat, partially cover and simmer until squash is tender and farro is cooked, about 30 minutes.  Stir in kale and simmer 2 minutes.  Discard cheese rind.  Ladle into bowls and sprinkle grated cheese on top.