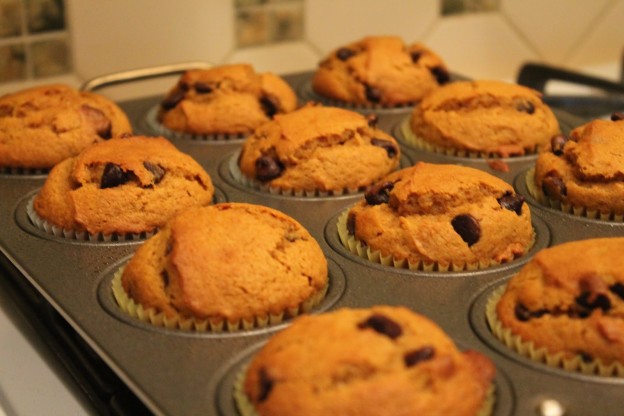 October is my month for all things pumpkin, and these little beauties are one of the top choices in our house. In fact I just took them into my son's class for his "fake birthday. " You know, the one you celebrate when you have a summer birthday but the teacher takes pity on you and lets you bring a treat in anyhow? That kind of fake birthday.
The great thing about these is that they can be made dairy free, nut free, egg free and gluten free covering MOST of the food allergies we're managing in schools! Love that.  It's so great when ALL the kids can eat the SAME treat for a special day!
Whip up a batch of these. You'll love 'em.
Gluten Free Pumpkin Muffins
Makes 12
Ingredients
1/3 cup oil
3/4 cup sugar
1/4 cup brown sugar
1/4 cup soy milk (or almond, or rice, or regular!)
1 teaspoon vanilla extract
1 1/4 cups Gluten-Free All Purpose Baking Flour*
1/2 teaspoon baking powder
1/2 teaspoon baking soda
1/4 teaspoon salt
1/4 teaspoon pumpkin pie spice
1 cup canned pumpkin
1/2 cup chocolate chips
(*or cake flour if you don't need these to be gluten free)

Directions:

1. Preheat oven to 350. Line muffin tin with cupcake papers.

2. Whisk together oil, sugar, milk, and vanilla. Sift in flour, baking powder, baking soda, pumpkin pie spice, and salt. Gently whisk flour mixture until well combined. Fold in pumpkin, but do not overstir or the batter will become gummy. Fold in chocolate chips.

3. Fill liners two-thirds full. Bake for 24-26 minutes or until toothpick comes out clean. Transfer to a wire rack to let cool completely.