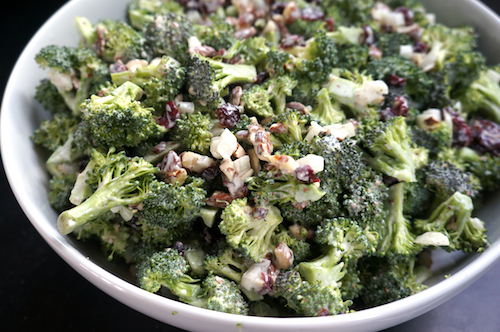 When it comes to barbecues and picnics, broccoli slaw (or broccoli salad) is a staple. Usually loaded with mayonnaise, cheese,  and bacon, it's not always a healthy choice, despite its namesake ingredient. This version fixes that.
I've kept this vegetarian, using dried cranberries and toasted almonds for texture. Then, I've subbed lowfat buttermilk and lowfat mayonnaise to cut some calories without sacrificing the creaminess of the dressing. Pack this for your Memorial Day picnic or barbecue and get ready to collect more than your share of compliments!
Broccoli Slaw
adapted from Smitten Kitchen
Yields: about 6 cups of slaw
Ingredients:
2 heads of broccoli (trimmed and cut into large chunks)
Note: you can also use bagged broccoli slaw for this
1/2 cup thinly sliced almonds, toasted
1/3 cup dried cranberries
1/2 small red onion, finely chopped
Buttermilk dressing:
1/2 cup lowfat buttermilk, well-shaken
1/3 cup lowfat mayonnaise
2 tablespoons apple cider vinegar
1 tsp. stevia (like Truvia)
3 tablespoons finely minced shallot
Directions:
1. Chop the broccoli into thin, bite-sized slices using both florets and stems. (You may want to peel the stems first with a vegetable peeler to make them more tender and less bitter.) You can also use a food processor slicer attachment for this, or a mandoline. Whatever works. Or open a bag of broccoli slaw that you'll find in the produce section – it's presliced.
2. Toss the sliced broccoli with almonds, cranberries and red onions.
3. For the dressing, whisk the buttermilk, mayonnaise, cider vinegar, stevia, and shallot in a separate bowl.
4. Pour the dressing over slaw, stir to combine, and season with salt and pepper to taste and then refrigerate. This can be made a day ahead with no issue.