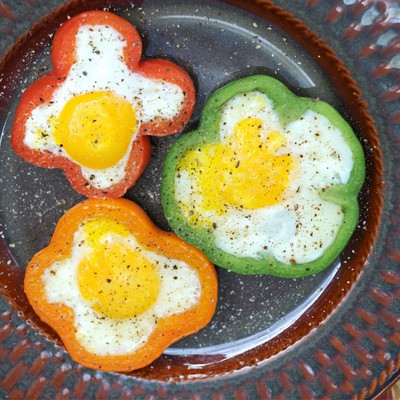 I'm ready for a mimosa of my own! This morning I took all three of the munchkins on air with me on Fox19 for my Healthy Living segment. One of the producers had suggested that I do a healthy breakfast easy enough for kids to make…and that I bring my own children to make it. (Yikes!)
My kids love to be in the kitchen and  I really believe that it's the only way anyone can learn how to cook. But cooking in our kitchen is one thing and cooking on live TV is quite another. I waited until yesterday to tell them because we can only handle SO MUCH anticipation in our house…but I have to say that they had a ball and it's one of those days I'll definitely always remember.
We made three simple dishes that are easy enough for children to make with just a little help from an adult.  They're healthy, too, so you can enjoy them guilt-free! Happy Mother's Day one and all.
Here's the link to the video.  And the recipes follow…
"Flower" Eggs  in Bell Pepper Rings  (I saw these on Pinterest and thought – adorable!)
Serves – up to you!
1 red, 1 orange, and 1 green bell pepper, sliced into 1/4″ thick rings, seeds removed
1-2 eggs per person
salt and pepper
Heat a nonstick griddle to 350 and place bell pepper rings on the griddle (1-2 per person). Crack an egg into the center of each ring and sprinkle with salt and pepper. Break yolk if desired and cook until desired level of doneness. Remove with a spatula.
Fruit, Yogurt, and Granola Parfaits
Serves 4
4 cups Nonfat greek yogurt
1 tsp vanilla
2 tsp. stevia or 1 Tbsp. honey
dash of cinnamon
Cut fruit – melon, honeydew, pineapple
Berries – strawberries, blueberries, blackberries
2 cups Lowfat granola
In tall parfait glasses (or drinking glasses) layer granola, yogurt, and fruit, alternating to create a pretty pattern. Serve with an iced tea spoon!
Mock Mimosas
Serves 4
2 cups fruit juice (orange, cranberry, pomegranate)
4 cups sparkling water
Orange slices for garnish
Mix fruit juice and sparkling water in a pitcher. Pour into stemmed glasses and top with a fruit garnish .