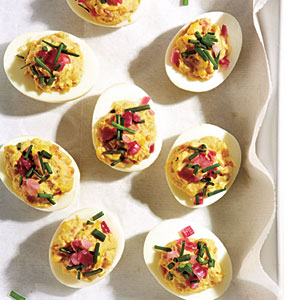 Confession. I am not a fan of deviled eggs. Scrambled and poached are my eggs of choice. Especially with really good toast.  Love 'em. But not deviled.
Nevertheless, my personal tastes aside, these little darlings are the most popular thing to make with colored Easter Eggs after the dying project is complete, so I wanted to offer you a healthier version to try if you're so inclined! This recipe gets lightened up by using canola mayonnaise (and less of it, as some of it is replaced with plain Greek yogurt). These also have a nice little kick from Sriracha – good stuff.
Try them for yourself! I'm curious, though. Left to your own devices, what do YOU do with the  colored eggs after Easter?
Heavenly Deviled Eggs
adapted by Cooking Light
Serves: 8
Ingredients:
8 large eggs
1/4 cup water
1/4 cup cider vinegar
1 tablespoon sugar
1/4 cup finely chopped red onion
2 tablespoons plain 2% reduced-fat Greek yogurt
2 tablespoons canola mayonnaise
2 teaspoons Dijon mustard
1/2 teaspoon Sriracha (hot chile sauce, such as Huy Fong) or hot pepper sauce (such as Tabasco)
1/4 teaspoon freshly ground black pepper
1/8 teaspoon kosher salt
2 tablespoons finely chopped chives
Directions:
1. Use hard-boiled eggs from Easter decorating. Remove shells.
2. In a small bowl, combine the water, vinegar, and sugar and microwave for two minutes. Once the mix is boiling, stir in the onion and let it stand for fifteen minutes before draining.
3. In another bowl, mix the yogurt, mustard, mayonnaise, Sriracha, pepper, and salt together. Set aside.
4. Cut each egg in half lengthwise. Remove the yolks.
5. Add six of the yolks and 2 Tbsp. of the drained red onion to the yogurt mixture and combine until smooth.
6. Spoon the mixture into the egg whites and garnish with chives and remaining red onion.