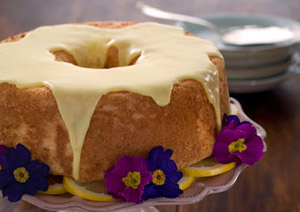 My husband's grandmother adores angel food cake. It makes an appearance at nearly every family gathering upon her request. I love that a woman who has mothered 11 children (yes, eleven!) and grand-mothered nearly 40 more (you can't make this stuff up) can have her favorite dessert every time her brood convenes for a celebration. And since we convene fairly often, we see our share of angel food cake in a year!
If you need a little twist on the original, here's a delightful version that would be a great addition to your Easter table. With all the chocolate that's sure to be on hand this weekend, I think a nice citrus dessert is just the thing to cap off your holiday meal. This one uses lemon juice and lemon zest for great natural flavor, and then the cooled cake is drizzled with a simple glaze made of yogurt, honey, and a little more lemon juice. The combination has a great balance of sweet and tart and the finished cake on a glass stand looks oh-so-pretty next to a basket of dyed eggs and a bunch of fresh tulips.
Happy Easter one and all!
Lemony Angel Food Cake with Honey Yogurt Sauce
adapted from www.foodnetwork.com
serves 8
Ingredients:
12 egg whites, at room temperature
1/4 teaspoon fine sea salt
1 1/4 teaspoon cream of tartar
1 teaspoon pure vanilla extract
1/2 teaspoon lemon juice
1 tablespoon lemon zest, plus extra for garnish
1 1/2 cups powdered sugar
1 cup cake flour
fresh mind sprigs for garnish
For the sauce:
1 cup plain yogurt
1/4 cup honey
1 tablespoon lemon juice
Directions:
1. Place your oven rack in the center of the oven. Preheat the oven to 350 degrees.
2. Combine the egg whites, salt and cream of tartar in a large mixing bowl with an electric hand mixer. Beat on medium speed until frothy. Add the vanilla extract, lemon juice, and lemon zest. Beat on high speed until soft peaks form, about 2 to 4 minutes. Gradually add the sugar and beat until the mixture forms stiff peaks, about 2 minutes longer.
3. Sprinkle the flour over the egg white mixture. Using a spatula, carefully fold in the flour until incorporated. Spoon the batter into an ungreased 10-inch nonstick angel food cake pan.
4. Bake for 30 to 40 minutes until the top is browned and a skewer inserted halfway between the inner and outer wall of the pan comes out clean. Cool cake inverted on a wire rack for 1 hour.
5. For the sauce: Whisk together the yogurt, honey, and lemon juice until smooth. Pour into a small serving pitcher.
6. Gently loosen the cake around the sides and the middle with a spatula. Release the cake and place on a serving platter. Cut into slices and drizzle with the sauce. Garnish with lemon zest and mint sprigs.