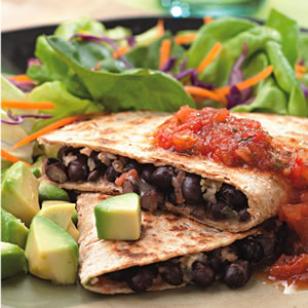 Now that we're two weeks into Lent, many families are actively searching for meals for meat-free Fridays. If you live in Cincinnati, you can take your pick of Fish Frys. The traditional fish fry fare is not the healthiest meal you can choose, but  it's great to see some churches adding healthier options to their menus. Our parish – St. Columban in Loveland  has a fish fry every Friday during Lent featuring grilled salmon, gourmet side salads, baked potatoes, and more in addition to the more traditional fried cod and friend shrimp!
But what do you do if your family just won't eat fish? Thankfully, there are countless great tasting and healthy choices you can try if you think just a little outside the box.  You may even find you like them well enough to extend your "Meatless Friday" throughout the year!  This morning on Fox19 Cincinnati, I shared some ideas for meatless meals that don't include fish. Here's the video, (remember mobile phones don't always like to play these videos) or you can read about it below.
Using basic starches to provide some variety and adding a source of protein (beans or cheese or tofu) and some vegetables gives you an endless array of options. Try things like:
Pasta – A simple pasta pomodoro with diced tomatoes, sliced basil and fresh mozzarella is a quick and delicious option
Baked Potatoes – top with broccoli and shredded cheddar, or salsa and greek yogurt, or vegetarian chili for interesting combinations
Pizza  – start with a whole wheat crust (I love the fresh one from Trader Joe's that you roll and bake at home) and top with crushed tomatoes, red and green peppers, mushrooms, olives, banana peppers and sliced tomatoes before sprinkling with mozzarella and a little parmesan
Tortillas – try this easy black bean quesadilla recipe or create your own meatless filling with your favorite beans and veggies
Remember that just because you're foregoing meat, you don't have to forego flavor and substance! Be creative, and you'll be surprised by how many meatless options you'll discover. In fact, here are some other ideas from the Nourish Archives that you may want to check out. I'd love to hear your other ideas in the comments section below.
Black Bean Quesadillas
adapted from Eating Well
serves 4
Ingredients:
1 15-ounce can black beans, rinsed and drained
1/2 c. shredded Pepper Jack cheese
1/2 c. prepared fresh salsa, divided
4 (8 inch) whole wheat high-fiber flour tortillas (I like Ole Extreme Wellness)
2 tsp. canola oil
1 ripe avocado, diced
Directions:
1.  Combine beans, cheese and half of the salsa in a bowl, gently mashing with a fork.
2.  Spread 1/2 cup filling on half of each tortilla; fold in half to cover filling.
3. Heat 1 teaspoon oil in a large nonstick skillet over medium heat. Add 2 folded quesadillas and cook, turning once, until golden on both sides (2 to 4 minutes total). Transfer to a cutting board and tent with foil (or place in a microwave with door closed) to keep warm. Repeat with the remaining 1 teaspoon oil and quesadillas. Serve the quesadillas with avocado if desired and the remaining salsa.