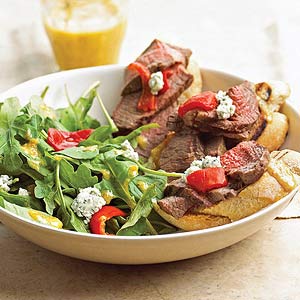 If you're handing off dinner duty for Mother's Day (it's on May 10th this year), here's a recipe you may want to print out to quietly slip into the kids' hands. Encourage them to share it with their father before next week's big day. Two reasons:
1) It largely involves grilling – most dads' preferred cooking method
2) It's absolutely delicious – celebration worthy for sure.
When dinner is ready, pour a glass of a crisp white wine, sit outside with your chefs-in-training , and raise a glass to YOU!
Mother's Day Dinner Idea: Grilled Steak Bruschetta Salad
Serves: 4
Ingredients:
¼ cup apricot preserves
¼ cup prepared horseradish
¼ cup creamy Dijon-style mustard blend
2 tablespoons lemon juice
4 (6 ounce) filet mignon steaks, cut 1-inch thick
12 1/4-inch-thick slices baguette-style French bread
4 cups arugula
¼ cup bottled roasted red sweet peppers, chopped
¼ cup crumbled blue cheese
Directions:
1. Preheat the grill.
2. In a small bowl, combine the apricot preserves, horseradish, mustard blend, and lemon juice and set aside.
3. Lightly salt and pepper the beef and place on the grill over medium heat covered, flipping it once. 12 to 15 minutes will produce a medium doneness; adjust the time of grilling accordingly. Grill the bread slices with the steaks for the final two minutes.
4. Thinly slice the steak and arrange over the bread slices. Garnish each piece of bruschetta with red peppers and blue cheese as desired.
5. Toss the arugula with dressing and portion onto 4 plates. Serve each plate of salad with 3 bruschetta.